Kallumakkaya Ularthu (kerala Style Mussels)
Kallumakkaya is a type of sea food with shell. It is found in sea as well as fresh water. The one's found in Kerala are mostly from the sea. Divers collect these mussels early morning and sell them with the shell. It is extracted after a tedious process of boiling and cleaning. I always get my share every time I go home and this time mom surprised me by not cleaning them herself which gave me the opportunity to boil and extract the meat from the shell.
It was very difficult but worth the trouble. We pickled some too so that we can savor them here in Bangalore. In the North Malabar side of Kerala these mussels are stuffed and served as tea time snack, I have not been lucky to try those but I can tell you this curry was awesome. Maybe it is the sea water flavor of the mussel or it being cooked in mere coocnut oil, the aroma of this curry still lingers in my mind.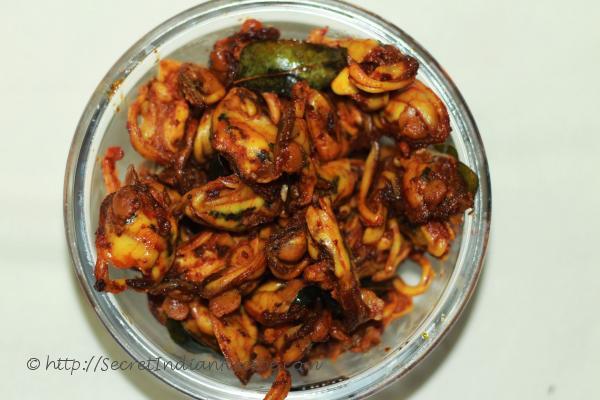 Ingredients:
Kallumakkaya- 500 g
Shallots- 10 pods
Curry leaves- 3 sprig
Turmeric powder- 1/2 tsp +1/4 tsp
Chili powder- 1 tsp
Crushed chili flakes- 1 tsp
Pepper powder- 1 tsp
Garlic- 6 cloves
Ginger- 1 inch piece
Coconut oil- 3 tbsp
Lemon juice - 2 tbsp
Water- 2 cups + 1/2 cup
Salt- 2 tsp
Directions:
Cleaning the mussels constitutes the first step. If you buy it with the shell wash it well and add it to 2 cups of boiling water.
The tight lipped shells will open up after 10-15 minutes. Switch off the flame after this and when the water has cooled down remove the mussels from the shells.
You will see black intestine in the center of mussel meat take this out by pressing the bulged center of the mussel. If you buy cleaned mussels you can omit all these steps.
Boil the mussels with 1/4 tsp turmeric powder and 1 tsp salt with 1/2 cup water. Cook for 5- 10 minutes and switch off the flame.
Overcooking makes the mussels rubbery so do not overcook the mussels. In a pan heat some oil.
Saute the minced shallots and curry leaves till the shallots brown. Now add the crushed ginger and garlic and saute for 2 minutes.
Add 1 tsp salt and the spice powders and saute for sometime till the spice powders are well roasted with the other ingredients.
Add the mussels now and stir fry for 10 minutes. Cover the pan with a lid and turn the flame low to let the mussels cook for 4-5 minutes more.
Add lime juice and give the mussels a final stir before taking the curry off the flame. Serve immediately with rice.
Footnotes:
You can garnish the mussels with some deep fried curry leaves and serve with a lemon wedge.
Other Indian Recipes that you may Like !