Kashmiri Kahwa ( Kashmiri Black Tea)
Kashmiri kahwa is a specially brewed tea which has the kahwa tea leaves, almonds, saffron, cinnamon and cardamoms brewed to a specific consistency. This tea is a must after every meal in a Kashmiri household. In my quest for authentic recipes, I got hold of some traditional Kashmiri recipes from a friend's mother and had my first cup of kahwa. It felt too strong for my South Indian palate but I did get a pack of kahwa tea leaves to woo my guests. I have tried brewing this tea with other tea leaves though it does not taste the same I still like the mix of almonds and spices in my tea.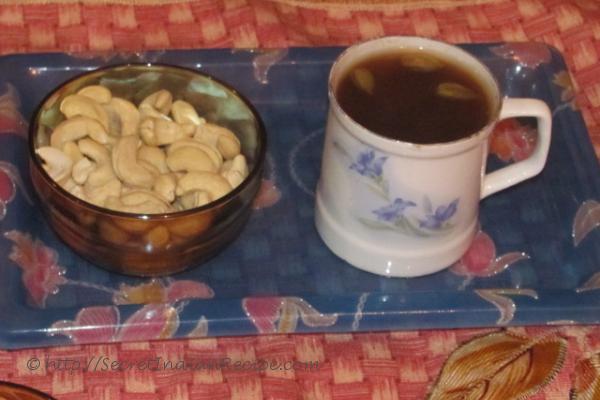 Ingredients:
Kahwa tea leaves- 1 tsp
Almonds- 5-7
Green cardamoms- 3
Cinnamon- 1 inch stick
Sugar- 3 tsp
Saffron- 3 strands
Directions:
Crush the kahwa tea leaves. Coarsely crush the cardamoms and cinnamon.
If you powder them you won't be able to strain them later and the taste would be overwhelming.
Crush the almonds coarsely and set aside.
Boil three cups of water with the kahwa leaves and crushed cinnamon and cardamoms.
Add the saffron once you bring the tea to boil and let it simmer for five minutes. The tea would be dark by now.
Strain the tea and garnish with almonds when you serve. If you don't mind leaving the spices you can leave them.
I left the cardamoms though I took off the cinnamon because it was small pieces that could choke if swallowed.