Kerala Style Porotta (malabar Poratta)
Kerala style porotta or paratha is a layered flat bread of south India, particularly Kerala. It is similar to North Indian paratha but the difference is that it is prepared using all-purpose flour and need good kneading to make soft dough. It is the favourite food of fast food lovers in Kerala.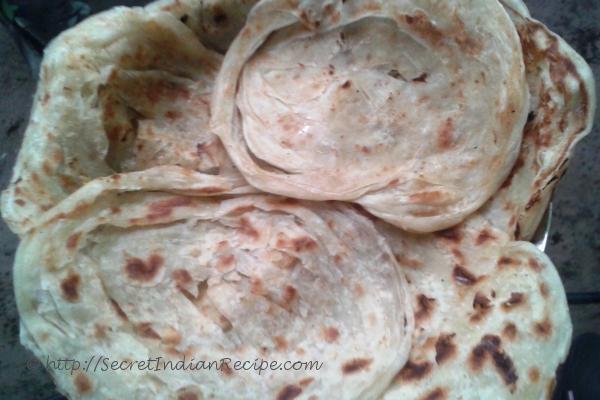 Ingredients:
All-purpose flour (Maida) - 2 cups
Wheat flour - 1/4 cup
Beaten eggs - 2
Milk - 1/2 cup
Soda powder - 1 teaspoon
Salt - as you need.
Sugar - 1 teaspoon
Oil – as you need.
Water - 1 cup.
Directions:
Mix 2 cups of all-purpose flour and 1/4 wheat flour in a bowl.
Add oil (as you need. I used 2 tablespoon of oil)to it.
Add the remaining ingredients and mix well.
Pat the dough well, so that it will be softer.
Keep it aside for four hours, covered with a wet cloth. (This is to prevent the dough from getting dry)
Knead the dough again with your hands after four hours.
Rub oil on a clean surface, preferably a large marble piece.
Make small balls from the dough.
Roll these small balls in oval shape with rolling spin (Chappathi stick).
Make pleats with it.
Roll these pleats to form a round shape.
This is done to get layers.
Then roll it out again with rolling spin.
Only one side should be rolled out.
Put a pan on the gas stove. The flame should be low.
Apply oil in the pan and fry the porattas.
Fry both the sides of porattas by flipping it using a spatula.
When both the sides turn slightly golden brown, take it out and put it on a plate.
Then use your hands to pat both sides of the porattas to get the layers.
Serve hot.
Footnotes:
Vegetarian people can avoid eggs and can make a lighter version of Kerala poratta.