Kheema Sandwich (minced Meat Stuffed Sandwich)
An interesting fusion between the Mughals and the British. A simple kheema stuffed into bread. It is the best you can do when you have leftover meat from a party, or a festival banquet. It is an easy tiffin box recipe for kids as well as adults if you love carrying sandwiches to work. This one was made from the filling leftovers from making momos. This kheema can also be used for making stuffed kheema paranthas.And interesting recipe I recently discovered was kheema stuffed buns though the concept is not very Indian, the masala and the filling is and it does surprise kids to find a filling inside their buns.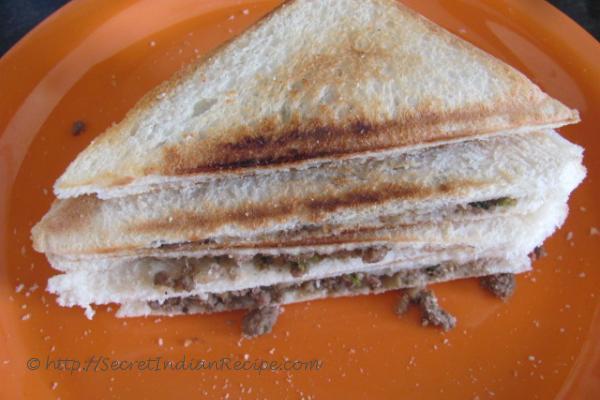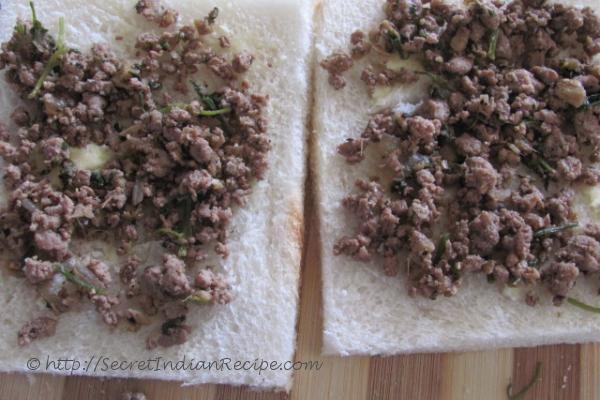 Ingredients:
Mutton minced meat- 100 g
Minced ginger garlic paste- 1 tsp
Onion- 1
Green chilies- 2
Tomatoes- 2
Turmeric powder- 1/2 tsp
Chili powder- 1 tsp
Pepper powder- 1/4 tsp
Garam masala- 1 tsp
Oil- 2 tsp
Coriander leaves- 1 sprig
Butter- 2 tbsp
Salt- to taste
Bread slices- 10
Soy sauce- 1 tsp
Directions:
To cook the minced meat, heat oil in a pan and saute the freshly minced ginger and garlic. When the ginger garlic browns add the finely chopped onion and green chilies.
Now add the spice powders and saute till the raw smell of the spice powders dissipates. Add tomatoes, soy sauce and salt and saute till the tomatoes mash.
Add the minced meat now and cook over low flame covered by a lid. Increase the flame when the meat has cooked to evaporate the water released from the meat and keep stirring to avoid the meat from sticking to the pan.
Garnish with coriander leaves. And let the minced meat cool down.
Meanwhile, cut the edges of the bread slices and apply some butter on both sides. Toast this bread lightly on a girdle and set it aside.
Fill the bread with the meat and toast it in a sandwich maker. This will ensure that the sides of the bread are sealed.
Serve with ketchup.
Footnotes:
If you are planning to carry this sandwich the next day it can be prepared as sandwich and refrigerated.
It stays up to 12 hours without getting spoilt but avoid onions and coriander leaves if you plan carrying these sandwiches for long journey.
Soy sauce is an optional ingredient and minus this ingredient this recipe is a mughlai recipe.
You can try chicken, beef or even crumbled paneer using the same recipe.
Keep the filling as dry as possible for better results.
Other Indian Recipes that you may Like !