Makkadabee ( Spicy Dry Groundnuts)
Normally Diwali food items take long time to prepare, this is very instant, tasty and favorite of kids n elders.
My grandma was a fantabulous cook. She had spent all her life in kitchen. But as age caught up my dad made it a point that she won't enter kitchen. She was disappointed, kitchen was her territory. One Diwali, I suggested her..." lets prepare something which is easy, fast yet very tasty." That's when we cooked this together. Our crunchy Makkadbees was in great demand. I will never forget her smiling face. Today I made it in her memory and I'm sure all will love it. #diwalirecipe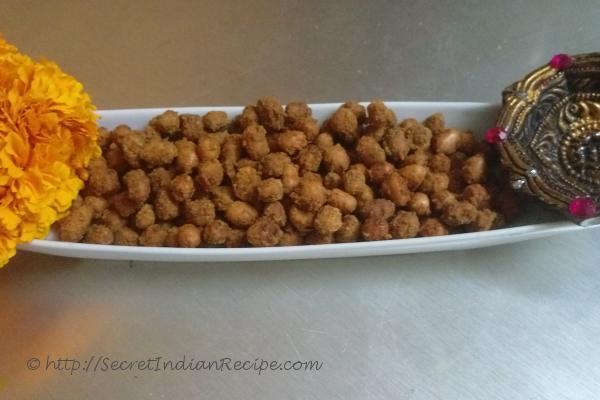 Ingredients:
2 bowls Groundnuts
1/2 bowl Chickpea flour
1 t.spn Red chilli powder
1/4 t.spn Turmeric powder
1/2 t.spn Carom seeds powder (ova)
2-3 bowls Oil to fry
Water
Salt to taste
Directions:
Wash the groundnuts.
On the wet groundnuts add 1-2 t.spn oil +turmeric + chilli powder + salt + powder and mix it well.
Once mixed, now keep adding chickpea flour little bit every time and apply it to all the groundnuts.
Sprinkle 2-3 t.spn water and mix it properly so that all the groundnuts are coated properly.
Heat oil on medium flame and fry the groundnuts in lots, remove on tissue paper.
It can be served hot or cold.
Footnotes:
While frying the groundnuts just be careful as the nuts splutter.