Moong/ Mung Dal Halwa (green Gram Lentil Halwa)
Mung dal halwa probably comes second to ' Gajar ka halwa (Carrot Halwa), when you talk about Indian winter special desserts. I have had this halwa in probably all the marriage functions which I attended in Winter….and all the religious rituals, because, it is easy to cook and offer as a ' Prasad' and yes, It is the same Mung dal Halwa, that I enjoy in ' Langer' every Friday at ' Gurudwara'… Yes I have been eating Mung Dal halwa for so long, but never though, I would try making it one day….Yesterday, when I made it myself, I realized, how easy, it is and now I need not to wait for marriages or Fridays to have this Halwa…..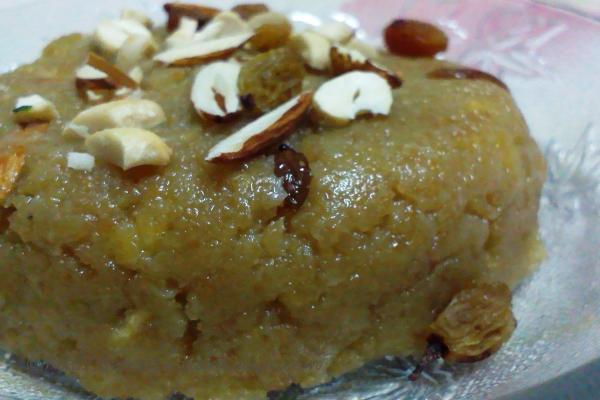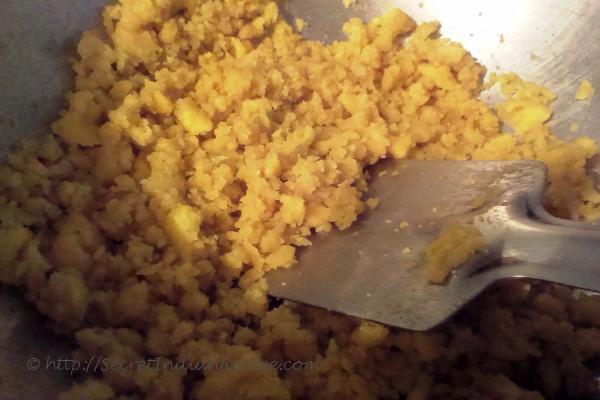 Ingredients:
Mung dal (Green Gram) – 1 cup ( soaked in water for 1 hour
Ghee – ¾ cup ghee
Sugar – ¾ cup
Milk – 1 cup (Full fat milk)
Green Cardamom – 2 pieces
Cashew – 2 tablespoon (Chopped)
Almonds – 2 Tablespoon (Chopped)
Raisins – 2 Tablespoon
Directions:
Wash the soaked mung dal with fresh water and then drain the excess water. Put the mung dal in a grinder and grind into a smooth paste, Avoid adding any water.
Switch on the gas and put a pan. Pour the ghee (Keep two tablespoon ghee aside).
Once the ghee is heated, pour the mung dal mixture. Stir well and fry the dal on low flame for next 40 – 45 Mintues……at the beginning when you will pour the grinded dal , it will be little sticky but slowly it will acquire a crunchy texture and will start releasing the oil and the aroma, as it is cooked.
After 40 minutes, add the sugar and continue to sauté for next 2-3 mintues.
Then pour milk and add the dry fruits…..Keep some to garnish….and mix well. Now it is the testing time, as the milk boils, it pops up so it may spill over to you…..You need to stand a little away from the gas and continuously stir the halwa unless all the water evaporates and it reaches to the desired consistency level.
Add the remaining two tablespoon of ghee and dry fruits.
You can keep this halwa for almost a month in refrigerator but always warm it before serving to get the best every time.