Navadhanya Mixture (healthy Protein Mixture)
This mixture is the combination of different pulses, legumes and nuts available at home. Traditionally Nine grains or pulses are used for making this snack and hence it is named as Navadhanya Mixture. A perfect evening snack for kids to have either in the school or at home after school hours. It is a a protein rich mixture that tastes nutty, crunchy and spicy.You can make this with any number of legumes available in hand....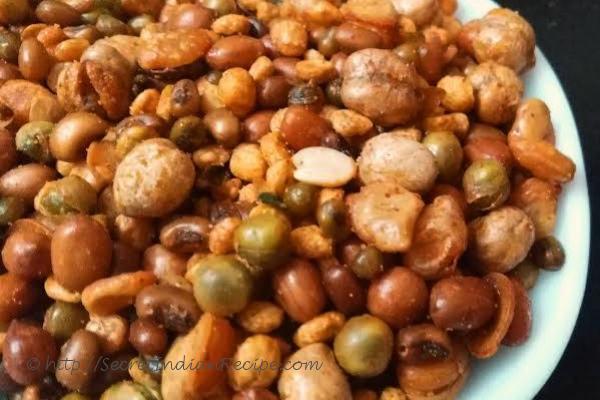 Ingredients:
Kabul Chana (White Chick peas) 200 gms
The rest of the following handful:
Horse gram
Green gram
Cow peas/ Black eyed peas/ Lobia (Karamani)
Green peas (Dried)
White beans
Field beans/ Mochai/Val
Peanuts/Groundnuts
Roasted gram/Pottu kadalai
Other Items:
Salt to taste
Red chilli powder
Hing powder
Curry leaves
Oil for deep frying
Directions:
Except peanuts and roasted grams soak all other ingredients in separate bowls for 6 hours. After six hours drain the water out and spread them on separate kitchen towels or cloth and allow to dry for atleast 3 hours. Then wipe them out with a neat cloth to get rid of dampness if any.
Now heat a pan with oil. Fry each ingredients in handful lots one by one in oil till becomes crispy and transfer them to a vessel together. Fry the peanuts and roasted grams finally and add to the fried ingredients. Fry the curry leaves also and add to them
Sprinkle required salt, chilli powder and hing powder and mix well. The nutty, crunchy, spicy mixture is ready now.
Footnotes:
Since we are making this exclusively for growing children dry fruits, cashews and almonds can also be fried in ghee and added.