Paneer Jalebi (unripened Curd Cheese Sweet Dish)
Paneer jalebi/Chanar jeelipi is a very popular sweet dish in Bengal, Rajasthan and Orissa, though the form can differ significantly from place to place. Just put it in your mouth for few seconds and you will have soft delicious taste of chanar jeelipi in your mouth. It is an awesome desert for paneer lovers.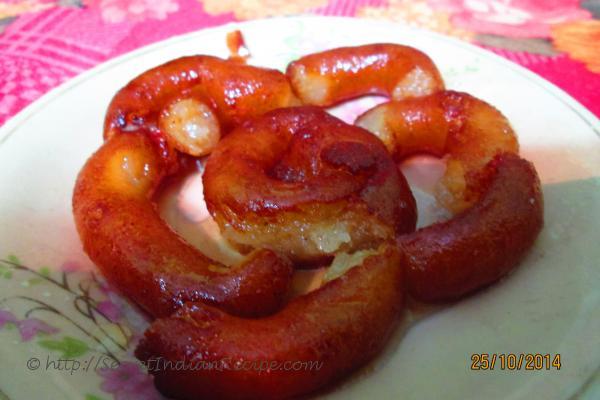 Ingredients:
Milk - 4 cups(full fat milk)
Lemon juice - 4-5 tbsp
Cardamom powder - 1/2 tsp
flour/maida (any) - 2-3 tsp
Baking powder - 1/4 tsp
Oil for deep frying
Milk - 2-3 tbsp
(for sugar syrup)
Sugar - 1 cup
Water- 1/2 cup
Saffron strands - a few
Cardamom - 2-3 pods(crushed)
Directions:
Boil milk in a deep pan. Add lemon juice when the milk starts to boil. Keep stirring, until the milk starts to curdle and let the extra water become clear.
Line a sieve with cotton cloth. Pour the curdled milk into it. Wash the strained paneer under running water to remove the strains of lemon juice added.
Place the sieve on a bowl and place it aside for 30 minutes until the water has been drained out. Transfer the paneer to a plate.
Add flour, baking powder, cardamom powder, milk and knead well to a smooth dough. Cover with a cloth and let it rest in a refrigerator for 10-15 minutes.
(For sugar syrup), Take sugar, water, saffron and cardamom pods in a pan and bring it to boil. Let it boil on low flame until the syrup becomes little sticky. Keep aside.
Pinch small ball out of the dough and roll the balls into a long thick rope. Shape the rope into a swirl. Do repeat the same for all. Keep aside.
Heat oil and deep fry the jalebis one by one until it attains a nice golden brown colour.
Remove from the oil using slotted spatula and add it to the warm sugar syrup.
After resting for 2-3 hours the delicious paneer jalebi is ready to serve.