Cheesy Baked Potatoes
Cooking has become my new hobby, though I am preoccupied with so many works but I really feel good and content if I cook something special which is different from daily cooking process. This makes me special that day .
Potatoes are one among the other veggies known for its diversity in cooking and cheesy baked is one of its variations . This dish is simple to cook and can be anytime snacks with lots of nutritive value.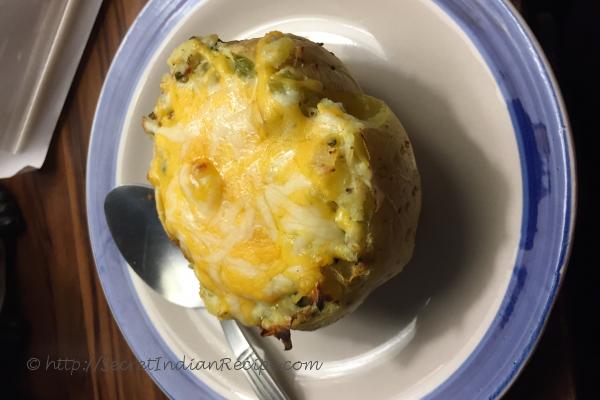 Ingredients:
2 medium size Potatoes
Some diced onion
Some chopped Capsicum
Finely chopped Green chilies
Finely chopped Garlic
1 cup of Cheese grated
2 tbsp of Sour cream
Some dried Italian herbs
2 tbsp of Butter
Salt and Black pepper powder
Directions:
Preheat oven at 350 degree Fahrenheit. Wash 2 medium sized potatoes and wipe it to dry on kitchen towel . Take a fork and evenly prick potatoes with their skin intact , place them on baking tray wraped with greased aluminium sheet. Baked them for 25 to 30 mins (every oven is different so keep an eye over them)
Put a frying pan on medium heat , add some butter until it melts (don't burn the butter). Add chopped onions, chilies, garlic, capsicum and stir it for about 5 mins . Sprinkle some dried Italian herbs, salt and pepper as per taste . Don't over cook the mixture, it just needs a saute for few mintues.
Meanwhile check the potatoes , cooked potatoes shrinks their skin and appears soft and mushy. cool the potatoes on cooling rack until it cools off completely .
Dig out a well in the potatoes by scooping out some portion of it and keep those removed potato flesh. .
In a bowl add tossed veggies , some cheese , sour cream , and removed potato flesh . Mix them together and keep it aside .
Fill the mixture in the scooped potatoe , press them gently, once packed with mixture. Put some more cheese on the top of the potatoes and again place them in oven for 5 to 6 mins until cheese melts over them .
Place cheesy baked potatoes directly on serving plate and enjoy the goodness with some more sour cream on top of it.
Footnotes:
To add more nutrition and flavor add some chopped baby spinach or veggies of choice .