Pidi With Kadala Curry (pidi With Bengal Gram Curry)
Pidi is a traditional Kerala recipe more common in Christian families. This is a very healthy and tasty recipe. This is one of the masterpieces from my mother's kitchen.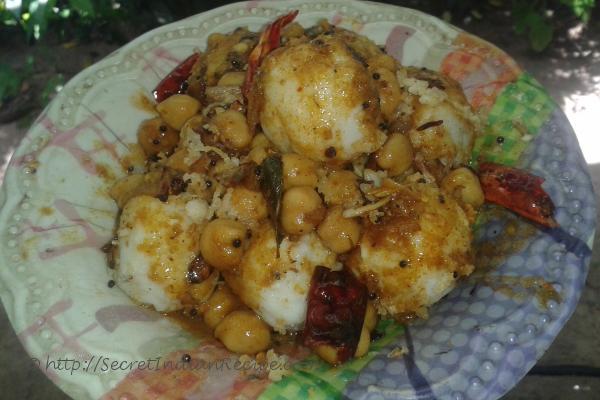 Ingredients:
For pidi
Water-2 glass
Salt-as you need
Grated coconut-1/4 cup
Cumin-1 pinch
Oil-1 tablespoon
For Bengal gram or kadala curry
Soaked Kadala or Bengal gram -250 grams
Grated coconut -1 cup (half of a coconut)
Chilli powder -2 heaped teaspoon
Coriander powder -1 teaspoon
Masala powder -1/2 teaspoon
Salt -as per your requirement
Green chilli - 5 nos.
Sliced onion-1
FOR SEASONING
Coconut oil 2 tablespoon
Mustard seeds -1 teaspoon
Curry leaves-1 sprig
Red chilli - 4 nos.
Directions:
Switch on the stove and place a vessel on the stove.
Boil water in the vessel.
When the water starts boiling, add salt to it.
Then add cumin, oil and grated coconut to the boiling water and stir well.
Then slowly add rice flour to it and stir well for 2 or 3 minutes.
Please note that no lumps are made.
Make sure that the dough is in the consistency of chappathi dough, so that we can make balls with it.
Then turn off the flame and make small egg shaped balls with this dough.
Then steam for 10 minutes in a steamer or idly cooker.
Then make the Bengal gram curry or kadala curry.
For that add soaked kadala or Bengal gram, salt, turmeric powder, green chilli and onion to a pressure cooker.
When it cooks well remove it from flame.
In a pan fry grated coconut till it reaches a dark brown color.
Add to it chilli powder, coriander powder and masala powder and fry it for two more minutes.
Grind the above mixture to a smooth paste.
Add the paste to the already cooked kadala and pour some water. Bring it to boil.
After boiling, reduce the flame and when it reaches a semi thick consistency remove it from flame.
Pour oil into a pan.
When the oil gets heated, put mustard seeds, curry leaves and red chilli.
Pour it over the kadala curry.
Then again put the kadala curry on the flame.
Then to this kadala curry or Bengal gram curry, add all the cooked pidi and stir well.
Serve hot.
Footnotes:
This dish can also be tried with non-veg items instead of Bengal gram.
To know if the pidi balls are cooked, just insert a toothpick into it and take it back. If you feel sticky dough in the tooth pick it means that pidi is to be cooked. If you don't feel any stickiness then it means that pidi is ready.