Rava Jelly(semolina Jelly)
A sweet recipe that can present your taste buds with a jelly-like flavour. It is my sister's favourite dessert. It is simple and easy to make and will be surely welcomed by your family.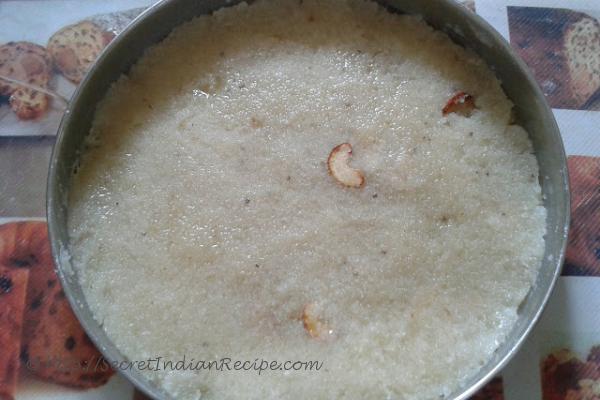 Ingredients:
Semolina- 1 cup
Sugar- 1 and 1/2 cups
Coconut milk- 2 cups
Ghee- 4 tbsp
Water- 1 cup
Cardamom powder- 1/4 tsp
Cashew nuts- 10 pieces
Kismiss(Raisins)-10 pieces
Directions:
Soak the semolina in 1 cup of hot water and keep aside for 10 minutes
After 10 minutes, strain the semolina and keep aside the water used for soaking semolina. Put the soaked semolina through a blender
Grease a tray with ghee and keep aside
Heat ghee in a pan
Roast the cashew nuts and raisins in the ghee and keep aside
Heat the remaining ghee in a wide bottomed vessel and add the extracted water, blended semolina, coconut milk and sugar to it. Keep stirring till it gets separated from the vessel (or a jam like consistency).
Add the roasted cashew nuts, raisins and cardamom powder and stir well. Transform the jelly into the greased tray and spread evenly
When cooled, cut into square pieces and serve