Rooh Afza And Coconut Flavoured Sweet Pulav
#DiwaliRecipe #DiwaliRegionalRecipe
Rooh Afza and Coconut flavoured Sweet Pulav recipe is made with the Basmati rice, Rooh afza, Coconut and lots of dry fruits. This recipe is very royal and rooh afza gives a unique flavour to this dish and does not required much time in making it.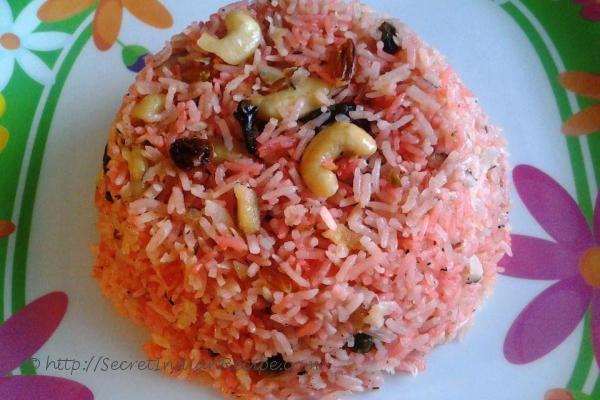 Ingredients:
Basmati Rice – 2 Cups (Washed and soaked in enough water for 30 minutes)
Sugar – 1/3 Cup
Rooh Afza – ¼ Cup
Pure Ghee – 1/4 Cup
Dry Coconut – ¼ Cup (shredded and dry roasted)
Cashewnuts – 15 to 20 (sliced)
Raisins – 25-30
Black Cardamom – 2 to 3
Cloves – 3 to 4
Black Peppercorns – 5 to 7
Cinnamon – 1 slick
Green Cardamom Powder – ½ tsp
Milk – ¼ Cup
Directions:
Drain the excess water from rice.
Boil milk and sugar until sugar dissolves completely.
Heat ghee in deep pan and gently fry cashewnuts. Drain them and keep them aside.
In the same pan add black cardamoms, cloves, black peppercorns, cinnamon stick and saute it for few seconds.
Now add rice and saute it for 2 to 3 minutes. Add green cardamom powder.
Now add boiled milk, 3-1/2 Cups of hot water, raisins, roasted coconut. Mix it gently.
Cover it and cook it until 3/4th done.
Now add rooh afza, mix it gently and cook it until it completely done. Allow standing time of five minutes.
Garnish with the cashewnuts and serve hot.