Sukat (dried Shrimp Chutney)
Sukat is a typical Maharashtrian fried shrimp side dish. It is quite a popular dish in coastal regions such as Karnataka and Goa. This dish is very easy to prepare. The cooking hardly takes time. The tough part is dry roasting the shrimp, casue when you dry roast it releases unbearable seafoody smell which can spread though your windows to the neighboring house.
For this dish use the tiny dry shrimp called "Jawala". Buy the smallest dried shrimps available in the market.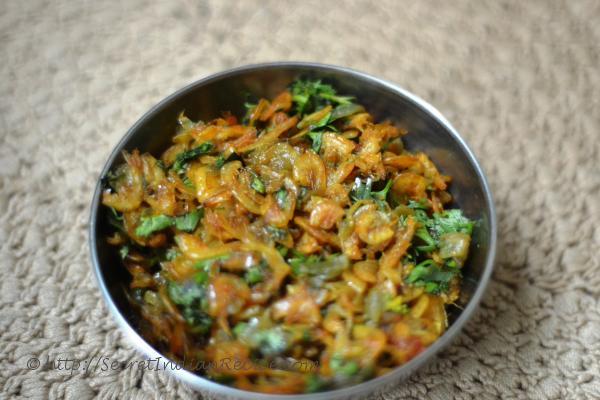 Ingredients:
Dried Shrimp: 1 Cup
Onion: Finely Chopped 1.5 Cups
Red Chili Powder: 1 tsp
Turmeric: 1/2 tsp
Kokam/ Amsul: 2 nos
Tomato: 1 Finely chopped
Garlic paste: 1/2 tsp
Water for washing the shrimp
Oil: 5 Tbsp
Salt to taste
Directions:
Heat a deep pot or kadhai. Add the shrimp to the hot kadhai and dry roast for 5 mins on low heat or till the shrimp turn nice and brown
Transfer the dried shrimp in to a big bowl or water
Wash the shrimp for good 1 min and strain water. Wash the shrimp again atleast once more to get rid of all the dirt. Squeeze teh water out of the shrimp
Spread the shrimp on to a paper towel or large plate
Add oil to the kadhai. When hot add onions, 2 pinches of salt and saute till slight pink and soft
Add the garlic and give it a quick mix. Add red chili powder and turmeric
Add chopped tomato and saute for 10 mins till tomatoes are nicely mashed and the masala starts releasing oil from the sides
Transfer the shrimp to the kadhai mix well. Add salt to taste
Cover with a plate, add water on top of the plate to create steam on top which helps in cooking faster. Cook on medium heat
After 3 to 5 mins, add kokam, mix well and cook till all water evaporates and the shrimp turns soft
Other Indian Recipes that you may Like !