Til Ke Ladu / Til Gud Ladoo (sweet Made Of Jaggery And Sesame Seeds
Tilache Ladu or Til Ke Ladoo, is a traditional sweet made on festive occasion of Makar Sankranti. A simple yet delicious sweet.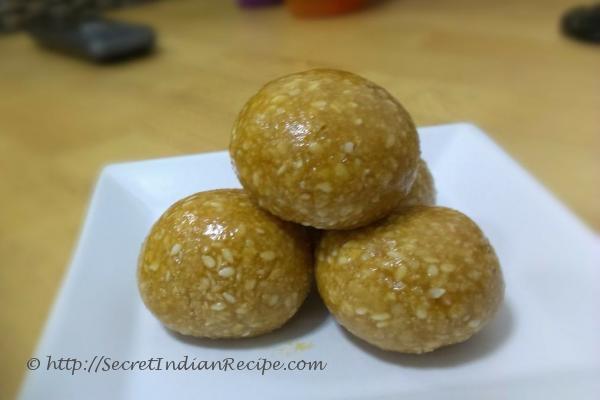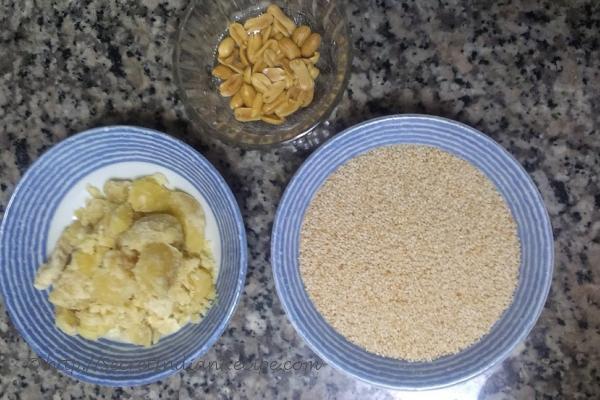 Ingredients:
1 Cup Sesame Seeds (White)
1/2 Cup Jaggery (Gur/gud)
1/4 Cup Crushed roasted peanuts
2 Tsp Ghee
A little oil or ghee for greasing
Directions:
In a pan dry roast sesame seeds till light golden in color and the room starts smelling of sesame. Remove and set aside, spread out in a plate
In the same pan take ghee and add the jaggery
Keep stirring the jaggery continuously and cook till all jaggery melts, cook for hardly half a minute more after all jaggery melts and add the roasted peanuts and sesame.
Turn off the heat and start mixing all ingredients together. The mixture will start getting stiff, so you need to be quick.
Remove the mixture on a plate, quickly with the help of a pair of spoons (Greased) make 12 to 14 portions of the mixture. Then quickly start rolling each portion between your palms to form a smooth ball. Be careful as the mixture will be hot.
You need to start making ladus immediately while the mixture is still hot, once it cools down you may not be able to shape it properly.
Let them rest for 30 minutes. Enjoy crunchy sesame ladus.
Store in air tight container. They can be stored for about a month(during winter).
Footnotes:
If using raw peanuts roast them and set aside before cooking the jaggery
You may also spread the mixture on to a baking tray and cut into squares to make chikki