Aloo Bukhara Chutney (plum Relish)
Recently made this as an alternative to imli ki chutney. Initially thought it wouldn't taste as good, but to my surprise it tasted better than tamarind chutney. It had the perfect balance of tangy & sweet...
I use this chutney in bhel and dahi wada and also at times have it on the side like an achar.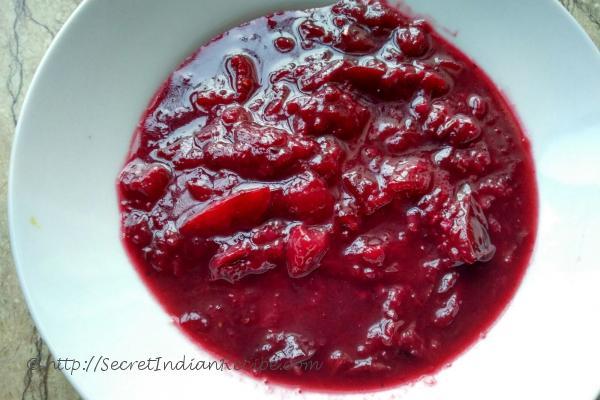 Ingredients:
Plums/ Aloo Bukhara : 10 pcs
Jeera : 1 Tsp
Dry Red chili : 2pcs
Oil : 1 tbsp
Salt : 1/4th tsp
Sugar : 1 Tsp
Directions:
Heat a pan, when hot add jeera & red chili and dry roast on low heat for a min. When done, remove using a grinder or mortar and pestle grind to powder
Keep this bhuna hua Chili, jeera powder aside
Use ripe plums / aloo bukharas for this recipe, de-seed all the plums.
Heat oil in the same pan, and add the de-seeded plums, followed by salt and sugar
Mix everything well and let it cook for 10 mins on low heat. Keep stirring inbetween
After 10 mins, you will see the plums will become very soft and mushy. Using a wooden spoon, stir all ingredients well and slowly press down, to form a chutney consistency
Now add the bhuna (roasted) jeera and red chili powder and mix
Turn off heat and remove. Let the chutney cool
Store in fridge. Use it in chaats and all dishes as a alternative to tamarind chutney