Gulab Sherbat (rose Drink)
A refreshing rose drink, tastes best when served chilled.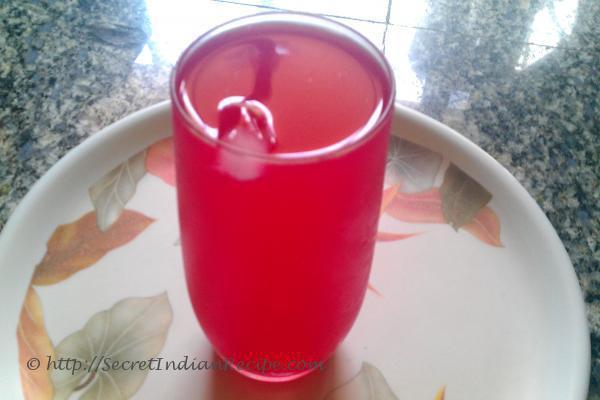 Ingredients:
1&1/2 Cups of Rose Petals
6 Cups Water
3 Cups sugar
1 Tbsp lemon juice
1Tsp Rose essence
1/2 Tsp rose colour
Directions:
Wash rose petals mildly.
In a large vessel boil 1 cup water, add the rose petals turn off the flame cover and let it sit for about 5 hrs
In a large vessel take 5 cups water add sugar let it simmer on low heat till all the sugar is dissolved.
Add the rose essence and color at this stage and let it further simmer for few mins
Add lemon juice and then finally the fresh rose water
Mix well and set aside the mixture for cooling.
Once cool, store refrigerated in a glass bottle. To serve: Use just about 4 tbsp or 1/3 of the syrup in a glass and top it up with ice cold water.
Footnotes:
This syrup can be stored refrigerated for up to 1 months
For rose milk or milkshake, do not add lemon in the syrup. The syrup may then be topped with ice cold milk and served chilled