Bajra Churma Ladoos (pearl Millet Ladoos)
People in North India welcome winters with a variety of preparations, mostly being sweet dishes. While nowadays, most people hog on sweets and gajaks made outside, still there are many festivals where home made sweets are relished. In Rajasthan, in many small functions and festivals, the menu comprises of Dal, Baati and Churma. Since Churma is a very high calorie dish, one needs to have a strong stomach to digest all that amount of ghee and sugar.
I, myself for the first time have tried this delicacy called Bajra Churma Ladoos and have made it with jaggery (instead of sugar due to calorie consciousness). It just takes a little but sincere effort to make perfect Churma Ladoos.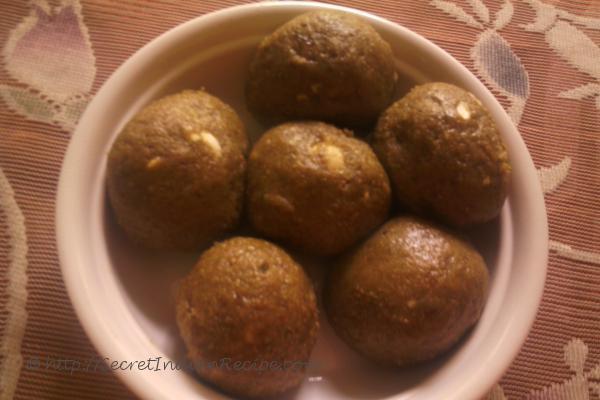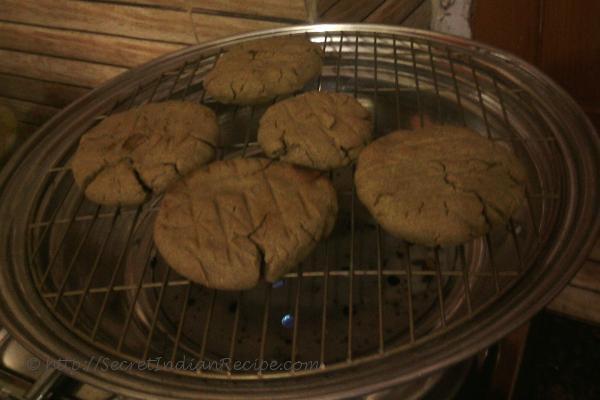 Ingredients:
Bajra Flour - 2 cups
Warm water - 3/4 cup
Ghee - 1 cup
Jaggery (Gur) - 1 1/2 cups (grated)
Cardamom Powder - 1 tsp
Mix Dry Fruits - 1/2 cup
Directions:
Take 2 cups of Bajra flour in a utensil and add half cup of ghee and mix well.
Now, make a dough of the Bajra by adding and mixing small quantities of warm water.
Make thick and small rotis from the dough and put it in the heated Baati oven or tava/ pan.
Keep checking and reversing it till it turns brown in colour. In case you are making in tava/ pan, you can also put it in direct flame from time to time for faster baking.
As soon as it turns brown and cracks a bit, remove from flame and immediately crush them with hands and grind them to a coarse powder in the mixer.
Take it into a plate and add the grated jaggery along with the remaining 1/2 cup of ghee. Mix them thoroughly.
Add cardamom powder and dry fruits. Shape them into round ladoos and allow them to cool in room temperature.