Dudh Puli
Dudh Puli is a kind of Pitha made during Paus Sankranti in Bengal. It is made with rice flour, coconut, milk and date jaggary. It is a sweet dish. As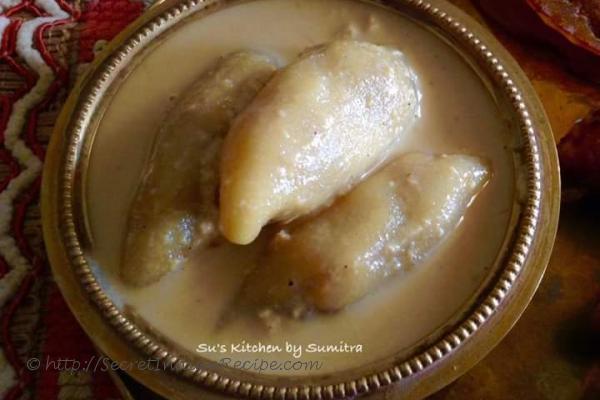 Ingredients:
For the Stuffing
1 cup Coconut grated
1/2 cup Date Jaggary grated
1/4 tsp Cardomom powder
Pinch of Salt
For the Rice Dumplings
2 cups of Rice Flour
1 Pinch Salt
Warm water
For the kheer
1 liter Full cream Milk
1 cup Date Jaggery
Pinch of Salt
Pinch of Cardomon Powder
Directions:
For the Stuffing Take a pan, add the Jaggary, Cardomom and salt, stir it on a low flame till it melts.
Add the coconut and stir on low heat till the mixture becomes dry.
Switch off the flame and let it cool down.
To make the dumplings, take the flour and add the salt in a mixing bowl, add warm water little at a time.
Knead it into a soft dough. Keep the dough covered as the dough will becomes hard if kept open.
To make the Kheer, add the milk in a pot and keep it on low flame till it reduces a bit.
Add salt, Cardomon powder and Jaggary and let it simmer for 15 minutes.
Final steps to make the Dudh Puli.. Take lemon size balls from the dough.
Flatten the balls with your fingers in the shape of a bowl.
The shell would be medium thin. Fill the stuffing into it.
Close, fold and seal the edges of the dough.
Give it a boat shape with 2 edges pointing outwards.
Once the kheer has simmer for 15 minutes, add the dumplings into the kheer.
Let it simmer for 10 to 15 minutes more, till the dumplings are cooked.