Ethakka Cutlet (ripe Banana Cutlet)
It is a variety tea-time snack. The taste and method of preparation makes it different from the traditional cutlets. Unlike the vegetable or non-veg cutlets, this cutlet is sweet in taste and is sugar-free. Hence, this is mostly preferred for diabetic patients.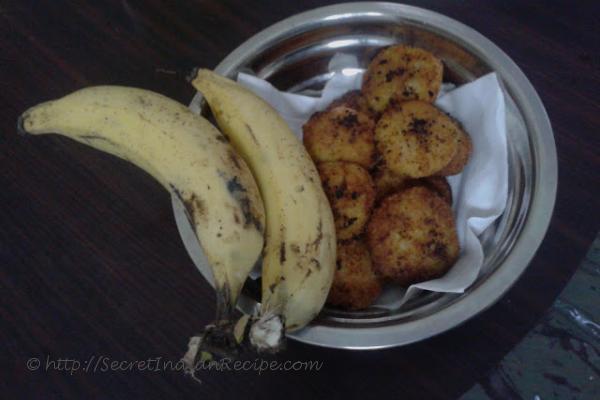 Ingredients:
Ripe banana-3
Grated coconut- 1 cup
Cardamom powder-1/2 tbsp
Milk- 1/4 cup
Bread crumbs- 1 cup
Coconut oil- as needed
Directions:
Steam the bananas and allow it to cool
When cooled, peel off the bananas and mash well using hand
Add the grated coconut and cardamom powder to it and mix well using hand
Take a portion of this mixture and flatten it to the shape of a cutlet
Now, dip each cutlet in milk and then gently roll in bread crumbs so that the bread crumbs get fully coated on both sides of the cutlet
Heat the coconut oil in heavy bottomed pan
When the oil gets heated well, shallow fry the cutlets until both sides of the cutlet turn golden brown in color
Drain excess oil and place on a paper towel.
Serve hot with tea
Footnotes:
1. Be careful that the bananas should not be too ripe. 2. If you are preparing this cutlet for kids, you can add sugar accordingly.