Mixed Fruit Chutney
Mixed fruits custard or mixed fruit juice and jam are quite common and are really enjoyed by kids and adults alike but have you ever heard of Mixed fruit Chutney? Well! I never thought of anything like this can be cooked. The closest can be Khajur and tamarind chutney which is quite popular in Bengal and has grapes, raisins and Dried Manago pulp (Amsatta) to increase the content and taste of the chutney. This version of Mixed fruit chutney which has Banana, Apple, Orange, Dates and spices was really unique to me when I had it for the first time during Durga Puja celebration in Jhargram (Border of Bengal and Jharkhand). I was on a short trip with my colleague, who was a native of the place. They have a ritual of ' Bhog'( Eating together) during Durga puja and the menu is vegetarian. There was Khichdi, Side dishes, Begun Bhaja, chutney and Papad. The khichdi used to be same but the side dishes and chutney would be different on all the four days. On the very first day, I was served this Mixed fruit chutney and it was awesome. Now I make it at home and serve it whenever we have a get together or celebration at home. So if you are looking for a unique and healthy chutney recipe, try this.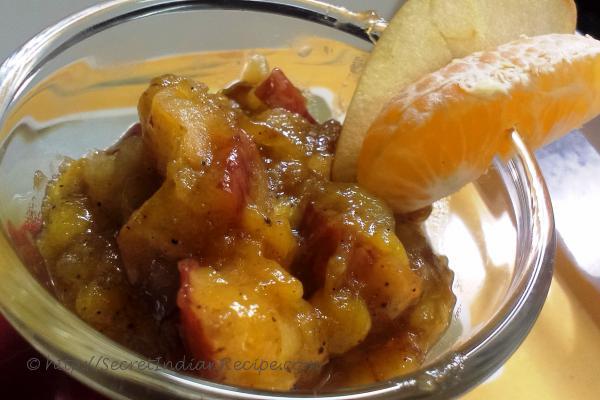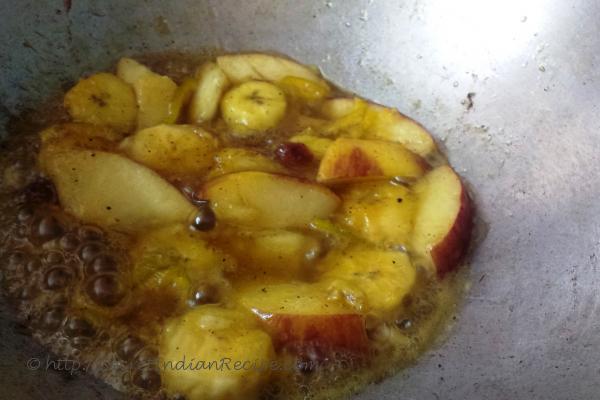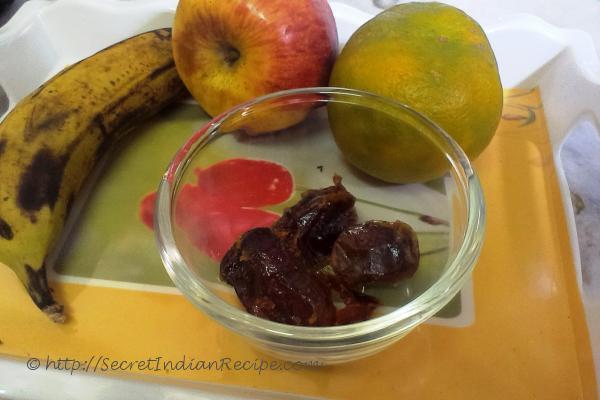 Ingredients:
Banana – 1 medium sized
Apple – 1 medium sized
Dates – 10 pieces
Orange juice – 1/2 cup
Orange peel – 2 tablespoon
Cinnamon powder – a pinch
Clove – 1 powdered
Mace powder – a pinch
Dry ginger powder – a pinch
Black pepper - as per taste
Vinegar – ½ teaspoon
Sugar – 2 tablespoon
Directions:
Peel and chop Apple and Banana in slices and keep aside. Deseed the dates and chop in medium pieces.
Take the orange peel, scratch the inner white potion with a knife and then chop into fine pieces.
Now take chopped Banana, Apple, Dates, Orange juice, Orange peel and sugar in a pan and mix.
Switch on the gas and keep the pan on low flame. Let it simmer for about 5-6 mintues or till the fruits turn a little tender and the sugar dissolves completely.
Add clove, cinnamon, black pepper, mace and dry ginger powder and Papmix. Cook for another one or two mintues and then switch off the gas.
Add Vinegar and mix and let it cool. Serve with your snacks or with your meal and enjoy.