Muttai Paneer Biryani - Egg Paneer Biryani
This is a mouth-watering dish for eggetarians and vegetarians. Those who miss out on chicken biryani or mutton biryani will surely love this recipe. The fried eggs and paneer blends together and gives an excellent taste with the flavour of spices. You can prepare this recipe with just normal rice. Try this recipe, and am sure you won't miss other biryanis.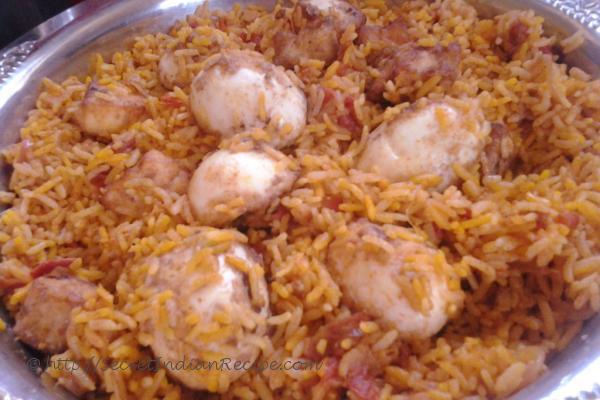 Ingredients:
Rice - 1 kg (Any thin quality white rice)
Egg - 6
Paneer - 1/4 kg (or quantity as you prefer)
Onions - 1/2 kg finely chopped
Tomatoes - 1/2 kg finely chopped
Ginger & Garlic paste - 4 tbsp.
Pudina (Mint) - a small bunch
Cardamom, Cinnamon, Cloves - 3 each
Bay leaf - 2
Vegetable oil - 200 ml.
Curd - one cup
Green chilies - 4 sliced
Turmeric powder - 1/2 tbsp.
Chili powder - 1/2 tbsp.
Coriander powder - 1 tbsp.
Ghee - 3 tbsp.
Milk - 1/4 cup
Kesar (saffron) - 1 tbsp.
Salt - as per taste
All-purpose flour - a cup
Directions:
Wash and Soak the rice for 10 minutes. (You may use any thin quality white rice for this. If you prefer basmati rice then you may use that as well, in case of basmati rice just soak the rice for 2 minutes and drain the water)
Place the eggs in a bowl and add water, keep the bowl on low flame and cook the eggs for 5-10 minutes. Once the eggs are cooked remove from flame and peel off the shells and keep aside.
Cut the eggs into two halves. Take a cup of all-purpose flour (Maida) and sprinkle little salt. Roll the eggs and paneer in the flour and keep it aside. Place a fry pan and add oil and heat it in low flame.
Place the eggs and paneer one by one in the pan and let it fry on one side and turn to the other side, once it turns golden brown. Remove the eggs and paneer from oil and keep it aside.
Grind the cardamom, cloves and cinnamon to a fine powder and keep the powdered spices aside. Place a vessel on medium flame and add water sufficient enough for rice to cook.
Add 2 cardamoms and a spoon full of vegetable oil to the boiling water. And add rice to the boiling water and stir it every now and then till the rice cooks at least 90 percent.
Carefully drain the water from rice and keep it aside to let it cool. Now place a flat bottom pan or vessel on medium flame. Add oil in the pan and wait for it heat.
Now add ginger garlic paste, little salt and saute it well for a minute. Add finely chopped onion, powdered spices and saute the mixture till onion turns light brown.
Now add pudina leaves followed by tomatoes and saute it well for 2-3 minutes and add green chilies, turmeric powder, chili powder and coriander powder and saute it well for 10 minutes.
Add curd to the mixture and stir it well. Just make sure to keep the flame in medium. Too much heat can burn the gravy underneath.
Once the mixture turns to thick gravy, remove it from flame and replace the gravy to another bowl. Now take half glass of milk and add saffron to it stir well and keep it aside.
It is now time to arrange the biryani for final cooking. Take a large vesssel and add 1 tablespoon ghee. Pour a layer of rice and top it with the gravy and a spoon full of saffron milk on first layer of rice.
Follow this step till entire rice is added in layers.
At last, place the fried eggs and paneer on top of the rice. Now place an iron pan or Dosa pan on low flame and keep the vessel filled with rice on top of the pan.
Make sure to close the lid of the vessel tight. Leave this vessel on low flame for about 10 minutes, and remove it.
Replace the biryani to a flat vessel or a plate and mix it well without breaking the cooked rice.
Serve it hot with curd raitha.
Footnotes:
If you use basmati rice just make sure to stir it gently. If it's ordinary rice then, you may have to place the vessel with rice on flame for about 5 minutes more.