Kadai Paneer Bhurji (scrambled Cottage Cheese Masala)
We all love and know the kadai paneer tastes great. But try making paneer bhurji in the same kadai gravy way, it tastes equally great and in fact is easier to cook.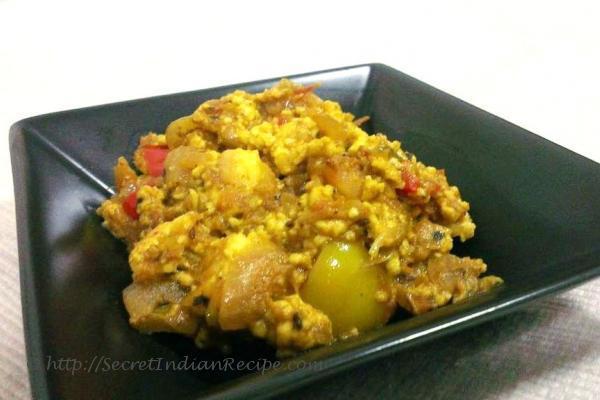 Ingredients:
500 Gms Paneer
2 tbsp oil
1/2 tsp Jeera (cumin seeds)
1 Onion finely chopped
1 tsp red chili powder
1/2 tsp haldi
1 tsp ginger garlic paste
1 tsp coriander seeds toasted and lightly pound
1 small tomato finely chopped
1 cup Chopped in cubes, red and yellow/green capsicum
1 tsp freshly toasted and ground coriander seeds
Salt to taste
Pinch of sugar
2 of each: bay leaf, black cardamom, clove
1 tsp garam masala
1 tsp kasturi methi
Directions:
In a pan heat oil, when hot add bay leaf, black cardamom, clove let these dry whole masala release their flavors into the oil. When they start turning dark brown or black turn off the heat and remove the whole masalas from oil and discard
If the oil is too hot let the temperature come down a bit, now add jeera, onions and cook till onions turn pink.
Add in haldi, red chili powder, ginger garlic paste, freshly toasted crushed coriander seeds followed by chopped tomatoes. Mix well and add salt to taste
Add in chopped capsicums, cover and cook till the masala starts to leave oil from side. Now add the ground coriander powder
Add sugar and paneer and start breaking (scrambling) the paneer cubes with the back of a spoon or potato masher.
When paneer is mashed and mixed well, add kasturi methi, garam masala and pinch of sugar. Cover and cook for another minute
Check for seasoning and serve hot
Footnotes:
For normal kadai paneer just add 1/2 cup water when the masala cooks, add in paneer, garam masala, kasturi methi and cook covered till the gravy thickens.