Mutton Chaap (mutton Ribs In Rich Spicy Gravy)
Mutton chaap is a Mughal delicacy and is usually served as a complimentary dish along with Biryani or roomali roti. I am not very fond of non- vegetarian food and especially red meat. I try to avoid red meat as much as possible. But when it comes to Mutton chaap, I cannot resist. It is cooked in spicy and rich gravy, the taste makes it irresistible. I had it in ' Shiraz'( A famous restaurant for Mughal food in Kolkata) for the first time and then over the years I became a fan and regular visitor. One day I found an article on ' Shiraz' in the local newspaper along with few recipes including 'Mutton Chaap'. I read it and tried it myself. I could not replicate the ambiance but the taste was quite close to what is being served in ' Shiraz'. Here is the recipe for you to enjoy!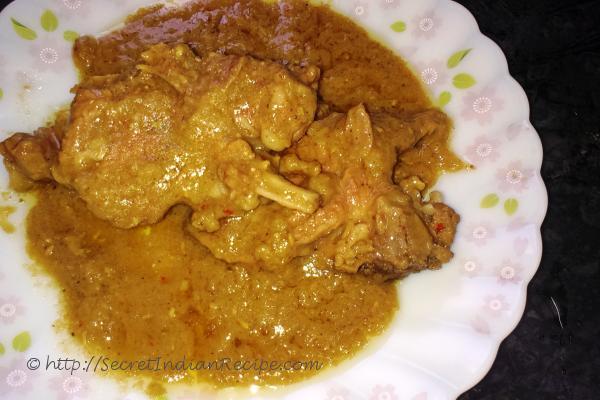 Ingredients:
Mutton ribs or mutton with bone – 500 grams
Onion paste – paste of 4 medium sized onion.
Ginger – garlic paste – 3 tablespoon
Kashmiri red chilli powder – 2 tablespoon
Turmeric powder – ½ tablespoon
Raw papaya juice – 1 cup.
Cloves – 4 pieces
Cardamom – 4 pieces
Cinnamon – ½ inch stick
Shahi Jeera (Aniseed)– ½ tablespoon
Bay leaves – 4 pieces
Sattu (Roasted gram flour) – 2 tablespoon.
Oil – 25 ml.
Ghee – 2 tablespoon
Kewra and rose water – few drops (Optional)
Directions:
Wash the mutton pieces under running water once, drain the excess water and then keep it aside.
Take all the dry spices i.e. cloves, cardamom, cinnamon, mace, nutmeg and shahi jeera in a grinder and then grind into fine garam masala powder.
Now heat oil in a thick bottomed pan….some people prefer cooking mutton in pressure cooker but for cooking authentic chaap, you need a little patience. Once oil is heated up, add the bay leaves followed by onion and ginger garlic paste. Saute for 3-4 mintues and then add red chilli powder and Turmeric powder. Mix and sauté for few seconds.
Add the mutton pieces and mix. Keep the flame high and fry the mutton pieces along with the masala. Mutton will slowly start changing the color from whitish brown to golden brown.
Now add the papaya juice and salt and mix well. Cover and cook for about 30 mintues. Keep stirring in between.
After 30 mintues or so, add the dry powdered garam masala and sattu. Mix well and sauté for a minute.
Pour 2 – 3 cups of water, depending upon how tender the mutton is cooked. Mix well and put a cover. Cook on low heat for about 40- 50 mintues.
Once the mutton is tender, check the seasoning and the gravy required. Finally pour ghee over the hot mutton chaap and mix. Serve with Biryani or roomali roti.
Other Indian Recipes that you may Like !