Panasa Ginjala Kura / Jackfruit Seeds Curry
Jackfruit seeds are also edible and contain Vitamin A, C, and some Minerals and are either boiled or roasted. The jackfruit seeds roasted on coal will taste really good. We can also make curry and biryani with jackfruit seeds. Today's recipe is my moms and very easy to prepare. We can also cook jackfruit seeds with drumstick.
To enjoy jackfruit and jackfruit curry, "One thing that we must keep in mind is while working with jackfruit we must apply oil to hands and to the knife , otherwise the sticky white substance will stick and hard to remove".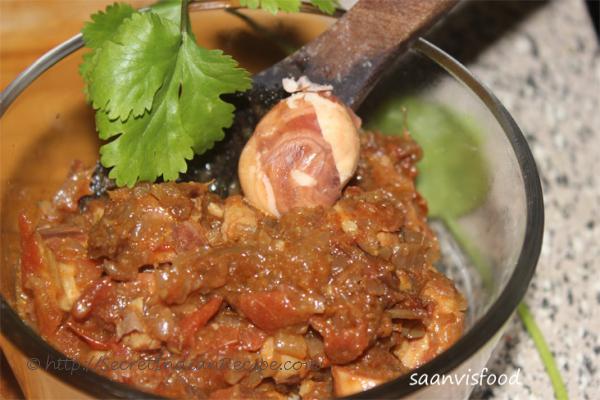 Ingredients:
Jack Fruit Seeds - 10
Small Onion - 1, finely chopped
Tomato - 1, chopped
Ginger-garlic paste - 1 tsp
Red chili powder - 1 tsp
Coriander powder - 1/2 tsp
Cumin powder - 1/2 tsp
Garam masala - 1/2 tsp
Turmeric powder - 1/4 tsp
Salt to taste
Coriander Leave for garnishing
Oil - 1 Tbsp
Directions:
Boil jack fruit seeds up to 4 whistles in a pressure cooker or in a bowl of water till seeds turn tender and let them cool and remove the skin and chop into 3 pieces.
Heat oil in a pan, add chopped onion, turmeric powder and little salt and cook till onions turn brown.
Add ginger-garlic paste and cook for 2 minutes and add tomato pieces and cook till tender.
Add red chili powder, coriander powder, cumin powder, salt and cook for a minute and add sufficient water and cook for 5 minutes.
Add cooked jack fruit seeds and cook till oil oozes out and curry is done.
Add garam masala, coriander leaves and adjust salt, mix and switch off the stove. Serve with rice or roti.