Pazhampori (ripe Banana Fry)
Banana fry or pazhampori is the most favourite snack of mine. It is a very simple recipe. Banana is a good source of calcium, iron and Vitamins. This recipe gives you a good combination of health and taste.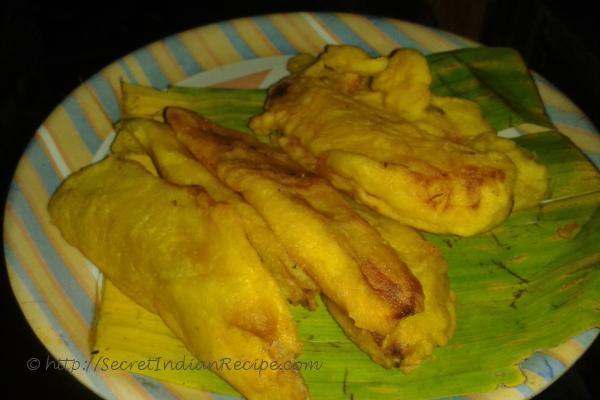 Ingredients:
Banana-2nos
Maida or all purpose flour-100 grams
Rice flour-1 tablespoon
Sugar-2 teaspoon
Turmeric powder-1 pinch
Oil-To deep fry
Water-3/4 cup
Directions:
Cut bananas into four pieces lengthwise.
Then mix maida, rice flour, sugar and turmeric powder with water to make semi thick dough.
Place a pan on the stove and switch on the stove.
Add oil into the pan.
When the oil gets heated, dip each banana piece in the dough and put it in the oil.
When both sides get a golden brown color, take it out. Put it over a tissue paper so that excess oil will be absorbed by the tissue paper.
Footnotes:
It is a very tasty teatime snake and everyone loves it.