Spiced Mango Soup
Mango soup spiced with Indian spices and coconut milk. Sweet spicy and exotic flavor packed soup.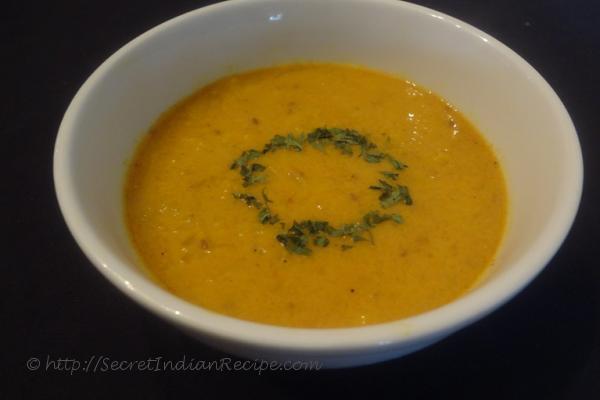 Ingredients:
1 Ripe Mango, peeled, pitted and diced
1/2 small Sweet Onion
1 tablespoon Olive Oil
1 cup Water
1/4 teaspoon Cumin Seeds
1 teaspoon Curry Powder
1/4 teaspoon Turmeric
1/2 teaspoon Ground Cayenne Pepper
1/2 cup Coconut Milk
Salt and Black Pepper to taste
Minced Cilantro for garnish
Directions:
1. Peel and mince onion.
2. In a saucepan, heat olive oil and sauté cumin seeds over medium-low heat. When the cumin seeds start to splutter, stir in curry powder, turmeric and cayenne.
3. When those spices are coated with olive oil well, add onion and cook until tender. Then add mango, water and bring to a boil.
4. Reduce heat to medium-low heat and simmer for about 5 minutes. Turn off heat, remove the saucepan from the heat and let cool for 10-15 minutes.
5. Transfer the soup into a blender and puree the soup until smooth.
6. Return the soup to the saucepan, stir in coconut milk and heat over medium heat to warm the soup up. Add salt and black pepper to taste. Simmer for another a couple of minutes.
7. Pour the soup into each serving bowl, sprinkle minced cilantro and serve as a warm soup or refrigerate the soup until chilled then serve as a chilled soup.