Weetbix Mixture
#DiwaliRecipe or #DiwaliRegionalRecipe
"WeetBix Mixture" is a savory recipe which is absolutely guilt free as it consumes only 3 tsp of oil for 2 cups of mixture. WeetBix Cereal is crushed and roasted along with peanuts, curryleaves, roasted gram and other spices.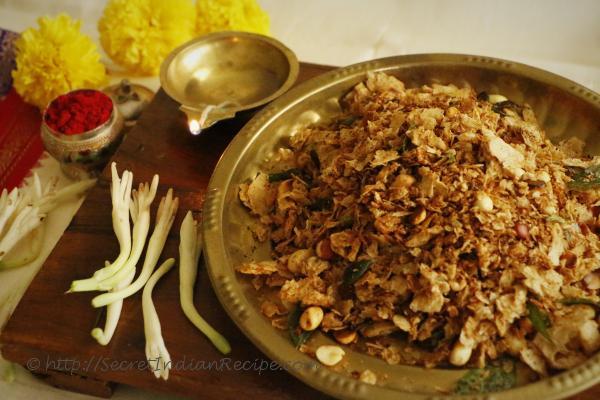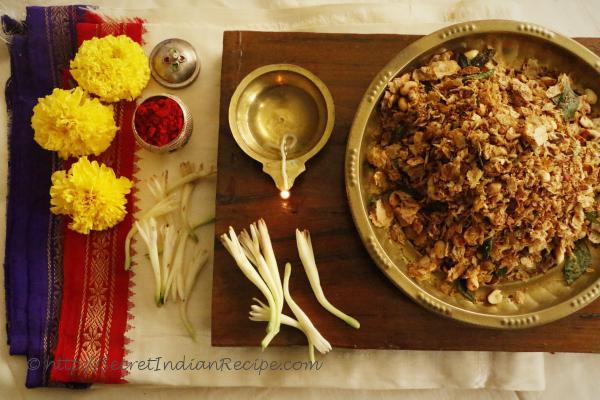 Ingredients:
Weet Bix Cereal – 5 pieces(75gms)
Roasted Peanuts – 1 tblsp
Roasted Gram/Pottukadalai – 1 tblsp
Curry leaves - few
Chili powder – ½ tblsp
Turmeric – a small pinch
Salt – as needed
Oil – 3 tsp
Hing – A generous pinch
Directions:
Dry roast the peanuts and remove its skin.
Crush the weet bix cereals. Do not crush them fine, just roughly crush them.
Take a non-stick pan. Add 2 tsp oil and curry leaves. Let the curry leaves turn crispy.
Add roasted gram and cook until it turns golden brown.
Add the roasted peanuts and switch off the gas.
Take another small tadka pan and add 1 tsp of oil and hing. Let it fry.
Add turmeric, chilli powder, salt and fry them in the oil.
Transfer them to the non-stick pan and mix well with roasted gram and peanuts mix.
Switch on the gas again where the nonstick pan in placed and transfer the crushed weet bix and mix them well.
Cook for 4 minutes approximately. You would find the weet bix turning completely crispy.
At this stage switch off the gas and transfer them immediately to an empty plate.
Store them in an airtight container once it cools down.
Footnotes:
 Weet bix must be crushed roughly only. It should not be powdered. If powdered, it would then get burnt very quickly.
 Adjust the chili powder taste. You may wish to add chat masala about ½ tsp.
 You may add cashews and raisins. Taste, cooking time and oil consumption must be adjusted accordingly.
Use only plain weet bix cereal