Aloo Palak ( Potato And Spinach Curry)
Aloo palak is a simple vegetarian recipe. Spinach has Vitamin A and E and minerals like calcium, iron and magnesium. Potato also has plant fibre and glucose . Thereby it is a very healthy recipe.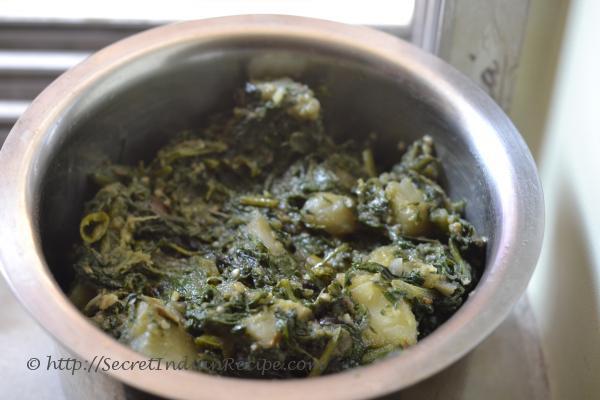 Ingredients:
Palak (Spinach) - 1 bunch
Aloo ( potato) - 2 pieces
Tomato - 1 piece
Hing ( asafoetida - 1/2 tablespoon
Green chilli - 4 pieces
Salt - 1/2 tablespoon
Mustard oil - 6 tablespoon
Directions:
Chpp the palak nad potatoes in small pieces and keep aside.
Heat oil in a karahi and put hing. Once the aroma starts coming out , add the potatoes. Fry the potatoes till they turn light brown.
Mix all ingredients in a bowl nicely
Now add palak , chopped tomatoes , green chilli and salt and mix well.
Serve cold as an accompaniment
Cover the karahi with a lid and cook on low haet for 12-15 mintues. Check if the poatatoes and spinach is done.
Increase the haet and fry the sabzi till all the water evaporates.
Footnotes:
During summer season, it is advisable to wash the spincah throghly for 3-4 times and add a little bit of sugar to kill its bitter taste