Alu Gobi Posto / Cauliflower Potato With Poppy Seeds
Alu Gobi posto or cauliflower potato with poppy seeds is a common recipe well known in eastern part of India. There is no use of onion and garlic in this recipe, so it can be taken during puja/ upvas days like Navratra. It tastes well with Parathas or Puris.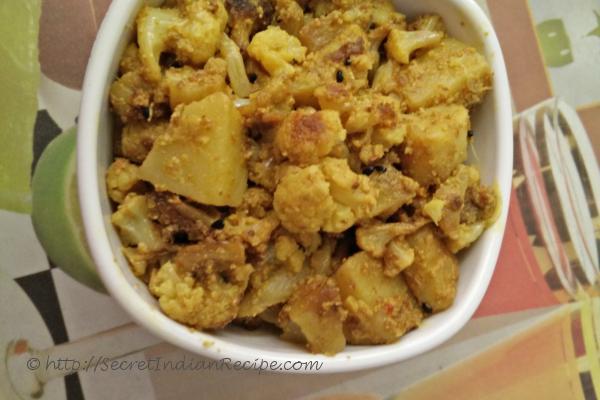 Ingredients:
1 Medium size Gobi (Cauliflower)
2 Medium size potato
4 tbsp refined oil or Olive oil
1/2 tsp Kalounji
2 green chillies cut into small piecees
1/2 tsp termeric powder
Salt to taste
For making posto paste :
2tbsp posto( Poppy seed)
1tsp Jeera
Dry Red Chillies 2 nos.
Ginger 1" piece
Directions:
1. Take 2 tbsp posto (Poppy Seed),1tsp jeera, Dry red chillies and ginger and make a fine paste of it. Keep aside.
2. Take a medium size cauliflower and cut into small pieces and wash it properly. Take 2 medium size potato, peel them off and cut them into medium pieces.
3. In a frying pan heat 4 tbsp oil, add Kalounji and green chilli pieces.
4. Add Gobi and Alu, fry them for 3 to 4 minute.
5. Add Salt, turmeric powder, posto paste and fry it. Cover it with Low flame.
6. Stir it in between and add little water till Alu gobi are cooked.
7. Garnish with Coriander leaves and serve with hot Parathas/Puris