Avalose Unda (roasted Rice Powder Balls)
A traditional Syrian Christian snack from Kerala. Whoa these undas are the hardest stuff I ever had to bite. I guess it is because of the sugar-jaggery proportions in homes that some undas are a tough nut. And mind it the harder it is longer it lasts and great is the prestige of the one who makes the toughest nut. i guess the ones now available in markets are softer because people have fragile teeth these days ( that's what my grandmom said about the softer ones bought from stores)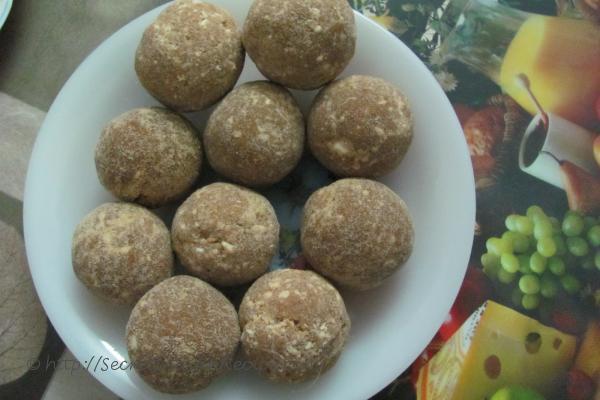 Ingredients:
Rice flour- 3 cups
Grated Coconut- 1 1/2 cup
Cumin seeds- 1 tsp
Salt- a pinch
Dry ginger powder- a pinch
Sugar- 1 cup
Cardamom powder- 1 tsp
Lime juice- 1 1/2 tsp
Water- 1/2 cup
Directions:
To make the undas one needs to start with avalose powder this is readily available these days. But for those who want to make it the recipe is as follows.
Heat a pan and add half the cumin seeds. When they are toasted add the rice flour, grated coconut, salt and dry ginger powder. Roast till golden brown. And this is your avalose podi.
This powder can be consumed just as it is with some chopped bananas and sugar sprinkled. But to make balls or avalose undas out of the avalose powder, mix sugar, lime juice and water in a bowl.
Keep this bowl overnight.Heat this liquid till you achieve one string consistency.
Once the liquid cools add cardamom powder and avalose podi and keep stirring. Make balls once the mix has cooled.
Coat in some more avalose podi and store in an airtight container.