Baigan Masala
Brinjal masala recipe is a popular north indian curry recipe which are typically stuffed with peanut and coconut masala .Later these stuffed eggplant are cooked in a thick curry sauce which combines with the brinjal stuffing to form flavourful curry.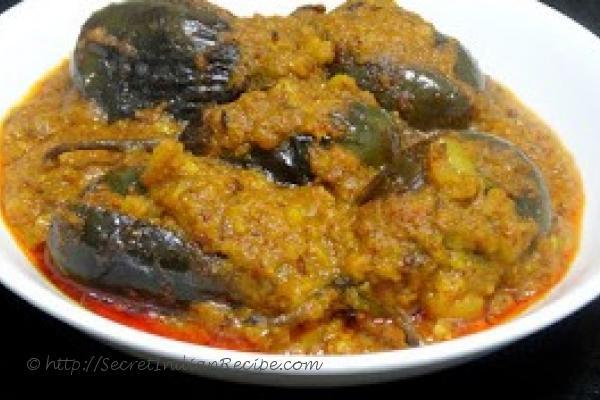 Ingredients:
Brinjal-250 gm
Peanuts - 50 gm
Garlic cloves - 8 to 10
Green chilli - 1
Chopped Ginger - 2 inch
Chopped Onion - 1
Cumin seeds - 1/2 tsp
Turmeric powder-1/2 tsp
Red chilli powder- 1/2 tsp
Coriander powder - 1/3 tsp
Garam masala powder - 1/3 tsp
Cooking oil - 4tbsp
Salt to taste
Cumin powder- 1/3tsp
Directions:
Turn on the flame and heat a pan , add peanuts and roast it for 2-3 minutes on low medium flame.
Take out the roasted peanuts in a bleanding jar and let it cool down a little.
Coarsely grind the roasted peanuts (do not grind it into powder) and keep it aside for further use.
In a blending jar : add ginger, green chilli, garlic, onions and littile water, blend it into smooth paste.
Cut all the brinjals from middle, keep the attached stem intact.
Heat a pan, add little oil and let it heat. Add brinjals and fry it for 2 minutes on medium flame, keep flipping.
Take out the fried brinjals in a plate and add little oil in the same pan.
Once the oil is heated, add cumin seeds and fry it for few seconds.
Add turmeric powder, red chilli powder, coriander powder, and cumin powder.
Mix it and cook it for 30-40 seconds on low flame, keep stirring.
Add blended masala paste, fry the masala for 2-3 minutes on low medium flame, keep stirring.
Add grounded peanuts and mix it with masala, add one glass of water and mix it.
Add salt to taste, mix it, increase the flame to high and let the curry come to boil.
Add fried brinjal into the curry, mix it, cover the pan and cook it for 15-18 minutes on low flame.
Add garam masala powder and stir it, cover the pan and cook it for another minute on low flame.
Turn off the flame, ready to serve.
Footnotes:
firstly, use small and tender brinjal for easy and uniform cooking.
further, adjust the spiciness according to your choice.
Finally, baingan masala recipe or brinjal masala recipe taste great the next day, as it absorbs masala well.