Bangalir Macher Mathar(fish Head) Lau( Lauki Or Bottle Gourd) Ghanto
Typical bengali food popularly made by our Maa-Thakumas with Rohu Fish head.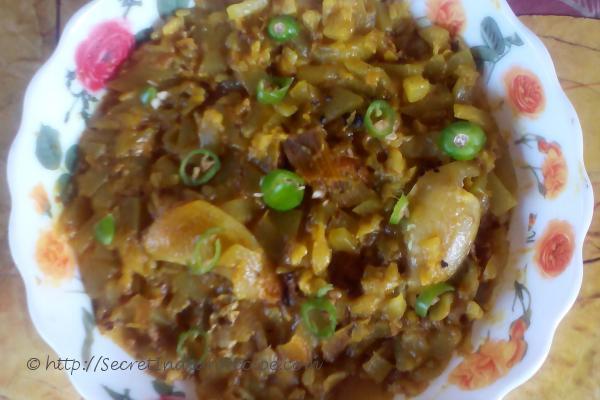 Ingredients:
Chopped Lauki(Bottle gourd)- 500g
Rohu fish Head- 2nos.
Cumin seed(whole)- 3tsp
Green chilli- 4-5pcs chopped
Cumin powder- 1tsp
Turmeric-1/2tsp
Salt & Sugar- To taste
Red chilli powder & Whole- 1/2tsp/2pcs
Directions:
Deep fry the fish heads in oil.
In the left over oil,add cumin seeds and red chillies.
To it,add the gourd and cook for 5 mins.
Add salt & sugar to taste,turmeric,cumin and chilli powder and mix well and continue cooking.
Now add the fried fish head and crush it to mix it well in the lauki.
When cooked take it from the oven and serve hot with white rice.