Bassaaru (beet Leaves Cooked With Dal)
A very simple recipe using beet leaves and lentils. It is a typical gravy in the Karnataka region. I was taught this recipe by my maid a few days ago. Though I was skeptical of the use of beet leaves and I did not agree to grind the lentils and beet leaves that this traditional recipe calls for, my inhibitions were proved wrong. The curry tasted yum, so next time I will grind the leaves and dal after boiling them and adding the spices.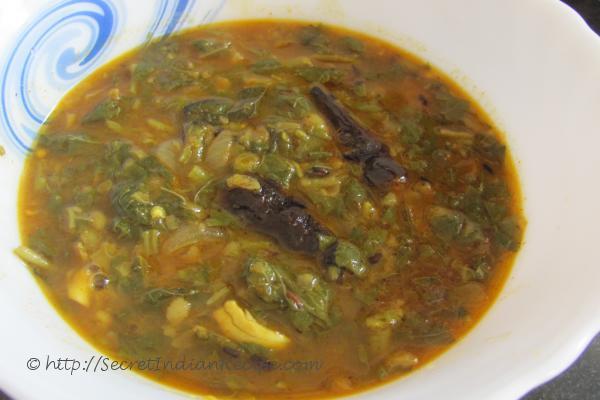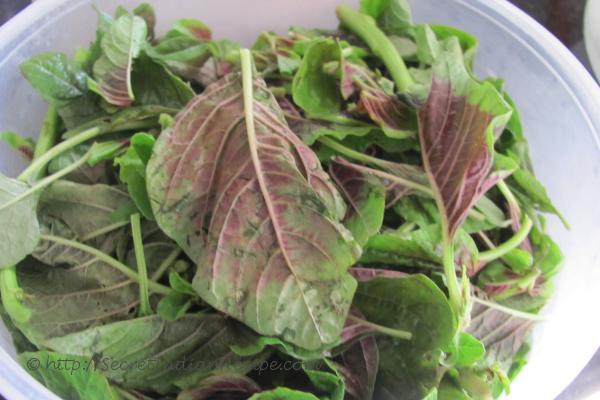 Ingredients:
Beet leaves- 3 bunches
Toor dal- 1/2 cup
Onion- 1
Green Chilies- 3
Garlic- 5 pods
Curry leaves- 1 sprig
Ginger- 1 inch piece
Chili powder- 1 tsp
Turmeric powder- 1 tsp
Asafoetida- 1/4 tsp
Cumin seeds- 1 tsp
Oil- 2 tbsp
Tamarind- size of a lemon ball
Salt- 1 tsp
Directions:
Wash and chop the beet leaves. Pressure cook the dal and beet leaves with 1 cup water up to 2 whistles.
In a pan heat some oil. Add the cumin seeds and let it brown.
Now add the onion, garlic, chopped ginger and curry leaves.
Saute till the onion and garlic browns. Now add the spice powders and saute for 45 minutes.
Prepare the tamarind extract meanwhile by adding ¼ cup of water to the tamarind. Add the tempering to the beet leaves and dal and let the dal simmer on slow fire.
Now add the tamarind extract and salt and bring the dal to a boil. Let the dal simmer for 5 minutes and switch off the flame.
Footnotes:
Adding sambar or rasam masala powder would bring in a different flavour.
The same recipe can be made as a dry curry without any gravy for which you need not pressure cook the ingredients but you can soak the dal and fry them with the beet leaves after the spices are sauted.
This recipe actually blends the dal and cooked beet leaves and makes the gravy look like a soup. I omitted this step because I wanted the leaves to be visible.