Beetroot Achaar (beetroot Pickle)
In North Kerala there are two typical pickles quite differently prepared from the rest of Kerala. One is dates pickle and the other beetroot pickle. You find this in any store there and they complement a spicy biriyani with raita quite well. So inspired from a trip to North Kerala sometime back, I decided to make some beetroot pickle when I got some freshly harvested beets. I did not let this pickle rest and made a very small quantity so it was a bit crunchy, if you however, let it rest it will be softer.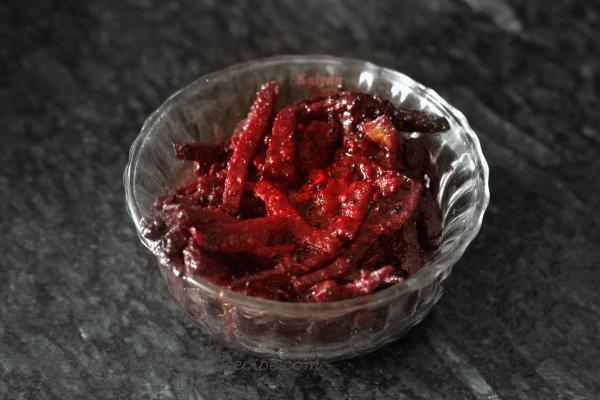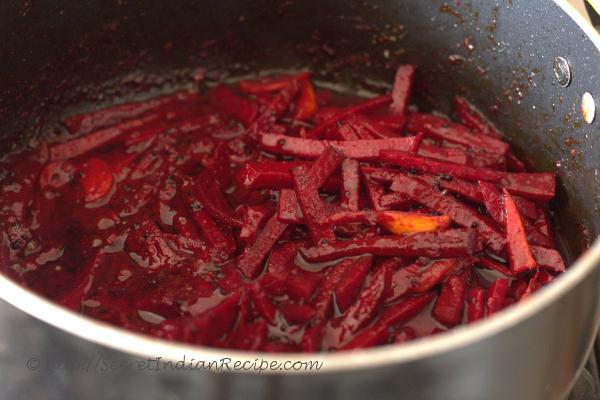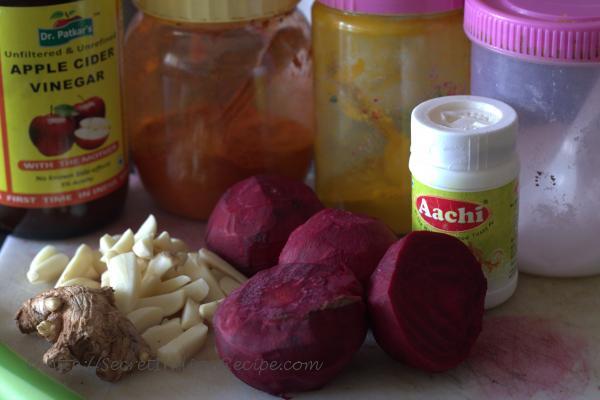 Ingredients:
Beetroot- 200g
Garlic- 18 cloves
Ginger- 2 inch piece
Gingelly oil- 100 ml
Turmeric powder- 1/2 tsp
Chili powder- 2tsp
Kashmiri Chili powder- 2 tbsp
Fenugreek seeds- 1 tsp
Asafoetida- a pinch
Jaggery- 50 g
Salt- 2 tsp
Vinegar- 2 tbsp
Mustard seeds- 1/4 tsp
Directions:
Peel and cut thin strips of beetroot. Clean the ginger and garlic and cut them into small pieces.
Melt jaggery with 2 tbsp water and strain it. Boil 1 cup water with salt and vinegar set it aside too.
Heat the oil and fry the ginger strips and garlic pieces. Set the ginger and garlic aside in a plate after they are golden.
To the same oil add the mustard seeds. When the mustard splutters, add the beetroot and saute for 2-3 minutes.
Add the spice powders and saute for 2-3 minutes. Keep the flame low or you might burn the spice powders.
Add the beetroot, ginger and garlic to the spice powders and toss these ingredient with the spices.
Saute for 2-3 minutes so that the beetroot, ginger and garlic get coated with the spices.
Now add the vinegar with brine water and bring the pickle to a simmer. Add jaggery too and let it simmer till the pickle thickens a bit.
It might take 5-8 minutes for the pickle to thicken. Switch off the flame after 3 minutes.
Store in airtight jars once the pickle cools down.