Beetroot Yogurt Curry
Since the past ten years, I had been trying a number of dishes with beetroots and this is the first time I am documenting one of them through my blog! This curry is really an easy one and if you have boiled beetroots ready with you, the whole dish is ready in a matter of minutes. A perfect summertime vegetarian dish, this curry is incomplete with the subtle flavour of curry leaves and mustard seeds. Yogurt adds interesting colour contrast to this amazingly light curry. You will love the dash of colour in this curry when you serve it. This is definitely a curry you want to dive in. And kids love it too!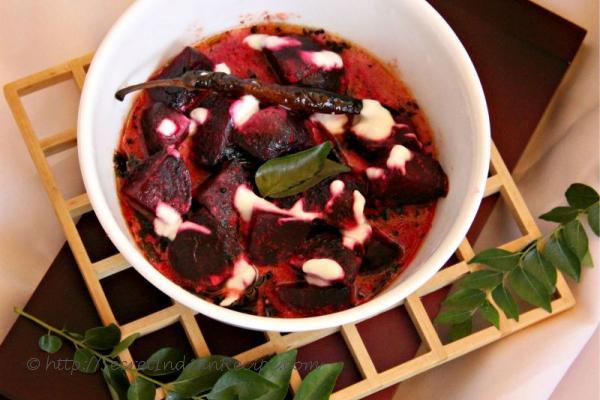 Ingredients:
Medium-sized Beetroots (boiled and cubed): 2
Dried Red chillies: 2
Ginger paste: ¼ tsp
Mustard seeds: ¼ tsp
Fresh Curry leaves: around 20
Unsweetened yogurt: 100 g
Water: ½ cup
Salt: ½ tsp
Sugar powder: ¾ tsp
Oil: 2 tbsp
Directions:
Mix the sugar powder and water to the yogurt and whisk with a fork, until the mixture is uniform. Set aside.
Add oil to a hot pan. When the oil smokes, add the red chillies and fry on both the sides. Add the mustard seeds. After a few seconds, add the curry leaves and immediately add the boiled and cubed beetroots.
Give the contents a quick stir. Add salt and sauté on medium flame for around 5 min.
Add the ginger paste and sauté for 2 min.
Switch off the gas and add the yogurt mixture. Fold-in the cooked beetroots.
Footnotes:
This is a very colourful dish and is great for summers. This vegetarian curry is very simple to make, pleasing to the eyes and is a burst of flavours in your mouth!