Besan Shimla Mirch Ki Sabzi (capsicum And Chickpea Flour Curry)
As a Keralite recipes like this is pure joy to me. It is inconceivable to our minds that ingredients like gram flour can become the base for a curry. I came across this dish at a Gujarati home and I was surprised at how easily they made this curry. My hubby does not prefer capsicums in any form except in maggi. But I had these capsicums lying around for quite some time. I had got them for pickling but then I lost interest and I find it unfair that my veggies get wasted. And then this recipe came to my mind and I tried this. I must say I made this curry in a jiffy and yet I am mighty impressed with the results. Next time I am wondering if I should use this as a stuffing for parathas.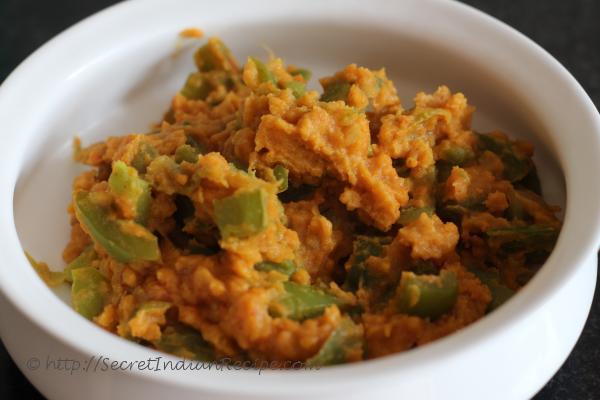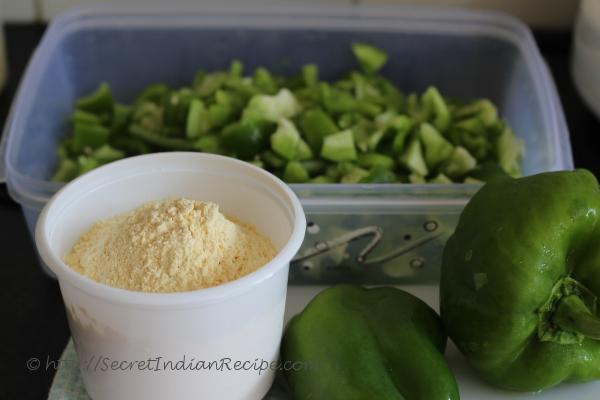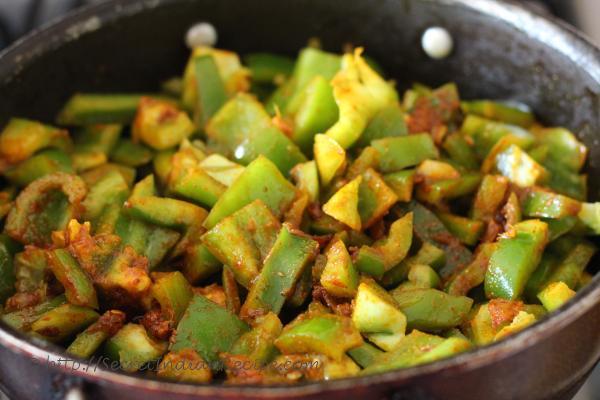 Ingredients:
Capsicum-5
Ginger- 1 inch piece grated
Chickpea flour- 1 cup
Turmeric powder- 1/2 tsp
Chili powder- 1 tsp
Asafoetida- 1 pinch
Cumin seeds- 1/2 tsp
Salt- to taste
Ghee- 3 tbsp
Directions:
Roast the chickpea flour in a deep pan till it emanates a cooked aroma. Transfer the flour to a plate and heat some ghee.
Add the grated ginger to the ghee and saute for 2 minutes. Now add the chopped capsicums and saute for a minute.
Now add the turmeric powder, chili powder, salt and asafoetida. Saute the capsicum with these spices and let the capsicum cook a bit.
Add the chickpea flour once the capsicum has cooked. Do not overcook the capsicum they just need to soften a bit.
Once you add the chickpea flour, continue stirring. The water released from the chickpea flour will get absorbed by the gravy so it may form a paste and stick to the pan.
Switch off the flame when the chickpea flour blends with the gravy and starts to form a lumpy mass. Serve with rotis.
Footnotes:
Use oil if you don't like ghee, though ghee brings in real flavours.