Bharli Keli/ Barleli Masala Keli (stuffed Bananas)
Usually Rajali Keli or Bananas are used for this dish, but if you don't find them you may use regular yellow skinned bananas.
I loved this dish as a kid. A mix of sweet and savory flavors, this is a perfect side dish with your meal.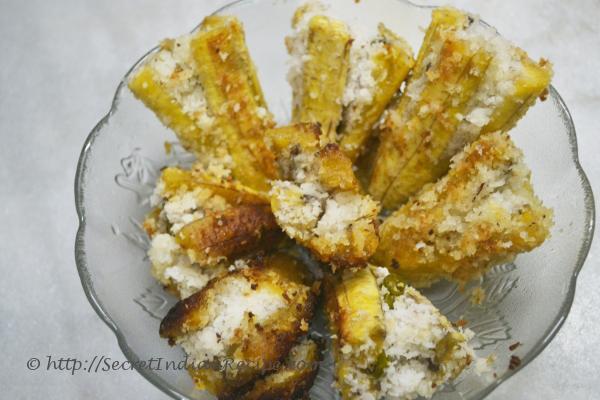 Ingredients:
4 Rajali Keli/ Bananas
1 Cup Fresh Coconut grated
4 Green Chilies finely chopped
3/4th Cup Grated Jaggery or Sugar
Pinch of Salt
5 to 6 Tbsp Ghee (Clarified butter)
Directions:
Peel the bananas and slit vertically. In a separate bowl mix coconut, chilies, jagery/sugar and salt
Stuff this mixture into the slit bananas.
Heat ghee in a pan, when hot place the bananas in.
Cook them on low heat till they turn brown evenly from all sides well.
Add in the renaming mixture. Cook covered while gently turning the bananas few times in between
Serve hot or at room temperature.