Bharwan Karela (stuffed Bittergourd With Dry Masala)
Karela is not a popular vegetable, but preparing it this way you can make it appealing and taste less bitter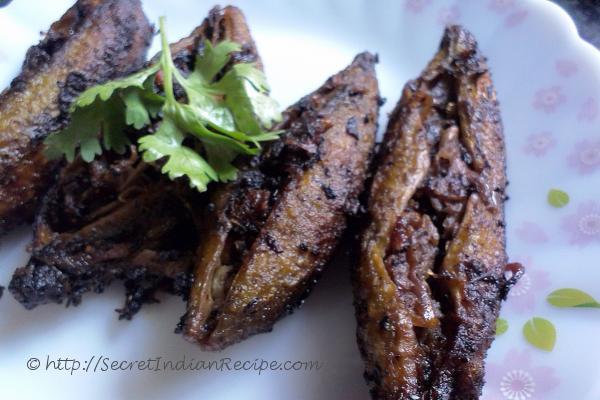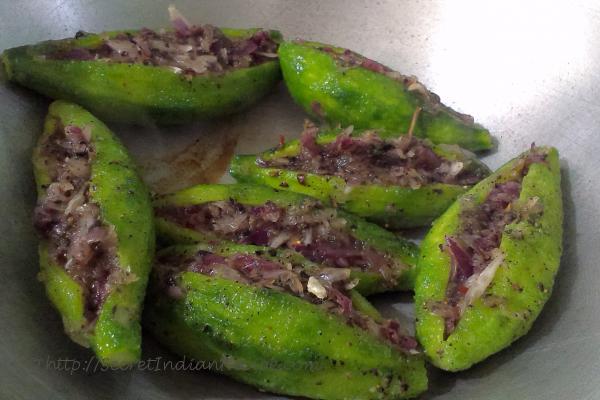 Ingredients:
Karela ( Bitter Gourd) - 6-8 big ones
Onion - 2 medium sized ( chopped finely)
Red chili - 2
Saunf (Fennel seeds) - 1 and 1/2 tablespoon
Meethi (Fenugreek seeds) - 1/4 tablespoon
Kala jeera ( Onion seeds) - 1/4 tablespoon
Mustard seeds - 1/2 tablespoon
Normal Jeera (Cumin Seeds) - 1/2 tablespoon
Dry Amrchur powder ( Raw mango powder - 1 tablespoon)
Salt = To taste
Oil - 5-6 tablespoon
Directions:
Wash karela and chop off the two ends. Roughly Peel the outer rough layer and then make a cut from one side. Take a pointed knife and remove the seeds from inside to make place for stuffing.
Now take a dry pan and roast saunf, meethi, kala jeera, Mustard seeds, normal jeera and red chili over low flame till they turn a little brown and start releasing their aroma.
After roasting , let the masala cool a bit and then grind it into powder.
To prepare the stuffing, take the grounded powder in a bowl, mix amchur powder, salt and chopped onion.
Fill each Karela with stuffing and keep aside.
Heat oil in a pan and carefully place all the stuffed karela. Cover with a lid. Cook the karelas over low heat for about 15 mintues. Then flip each karela carefully and again cover with a lid. Let the other side cook completely till the karelas turn soft.
Serve with Rice and dal.
Footnotes:
Bigger karelas are less bitter than smaller ones