Bread Potato Rolls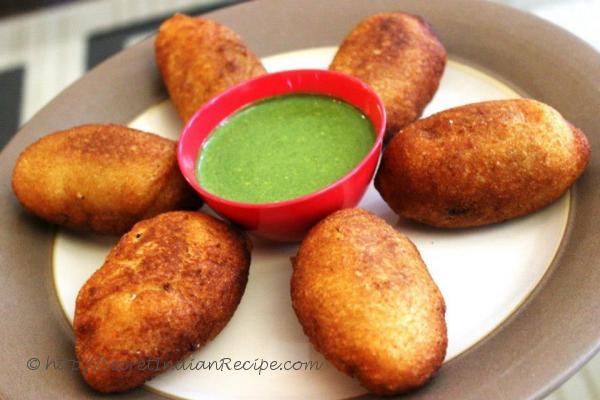 Ingredients:
Bread Slices - 6
2 medium size Potatoes boiled peeled and mashed
1/4 cup Green peas boiled
1 tsp oil (for stuffing)
Oil - to deep fry
Cumin Seeds - 1/4 tsp
Salt - to taste
Red Chili Powder - 1/4 tsp
Mango (Amchur) Powder - 1/2 tsp
Fresh Coriander Leaves - Chopped
Green Chili - 1 (finely chopped)
Finely chopped ginger - 1 tsp
Turmeric Powder - 1/4 tsp
Coriander Powder - 3/4 tsp
Directions:
Heat the oil in a frying pan and add cumin seed. As cumin seed starts cracking add turmeric powder, green peas, green chili and ginger, stir for a few seconds. Add potatoes and all the spices, chili powder, mango powder, salt, chopped coriander leaves, coriander powder and stir fry for a minute. Turn of the heat. Set aside.
Trim the edges of the bread slices.
Take small bowl of water for wetting the bread. Take one slice of the bread and dip in the water lightly on one side. Place the slice in between your palms and press squeezing out the access water. This will make the bread moist.
Place the filling in the center of this bread and completely cover it all around giving the oval shape. Repeat and make all the rolls. Before frying let them sit for about 5 minutes. This will evaporate some of the water from the bread and it will absorb less oil when frying. The Bread Rolls will also be crispy.
Heat oil in a kadhai and deep fry the bread rolls until golden brown and crispy.
Take them out over paper towel. Serve them hot with chutney or ketchup