Chakka Varattiyathu (jack Fruit Jam)
Chakka varattiyathu/Jack fruit jam is a sweet jam made out of ripe jack fruit. This was my grandma's master piece. Chakka varattiyathu is a favourite recipe for the kids. We can preserve jack fruit jam for 1 year. This can be eaten along with bread, chapatti, dosa etc.. It is also use to make Chakka adda and Chakka payasam.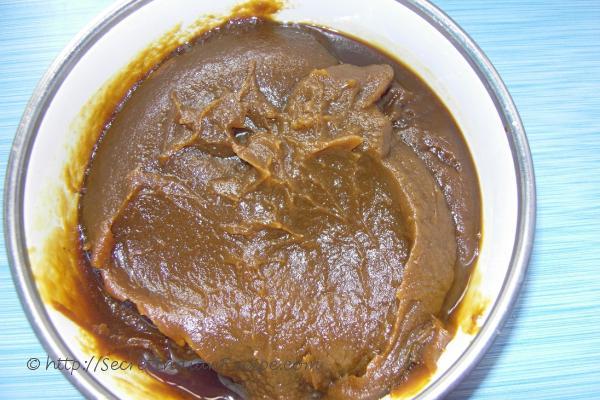 Ingredients:
Ripe jack fruit flesh (finely chopped) -6cup
Jaggery - 1kg
Ghee 1 cup
Dry ginger/chukku -1tsp
Cardamom powder - 1tsp
Water - 2 cups
Directions:
Deseed the flesh pieces of jack fruit and chop them into small pieces.
Pressure cook the jack fruit pieces with 1 cup of water, for about 10 to 15 minutes until it is soft.
Cool down the cooked jack fruit and puree it in a mixer.
Heat a heavy bottomed pan and transfer the jack fruit pulp to this pan. Stir continuously until water disappears.
In the mean while heat another pan and melt jaggery with a cup of water, to a dry thick syrup.
Pour the melted jaggery to jack fruit pulp and stir continuously.
Add ghee, chukku and cardamom little by little.
Stir continuously on a low flame. If it is sticking then add little more ghee.
Stir continuously without taking your hands, until oil separates from sides, and it forms into 1 single lump.
Cool and store in an air tight container.
Footnotes:
This jack fruit jam stays fresh for long time if we use with care.
Do not use wet spoons.