Cheera Sambar (red Spinach Sambar)
This might sound weird but yes there exists a spinach sambar. I was forced to make it because my brother got me 2 bunches of spinach instead of 8 and I could not manage making a stir fry with two small bunches. That is when I remembered this recipe and made this sambar. I am die-hard fan of red spinach also known as amaranthus. I love its color and flavor. This sambar has the rustic, muddy flavor of the spinach and gives the sambar a gooey, thick consistency which you will love. And the fact that it uses sambar masala differentiates it from the typical lentils cooked with spinach. Add capsicums and tomatoes if you have them in store it will enhance the flavor even more. I had this sambar for breakfast with poha dosa, check out the recipe for poha dosa or set dosa on my page if you wish to try the same combo I did.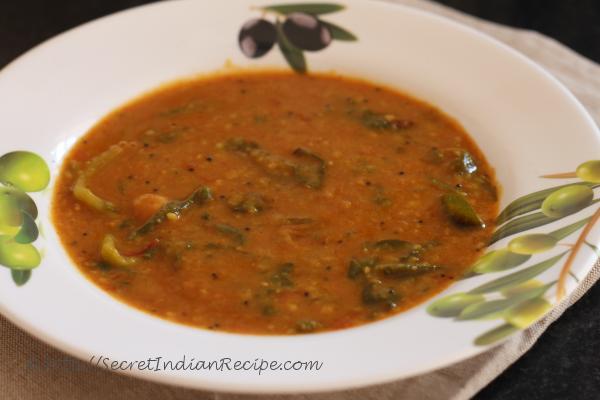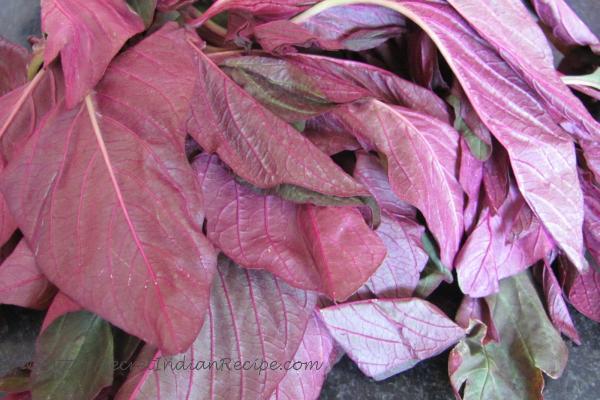 Ingredients:
Amaranthus (Red Spinach)- 2 bunches
Toor dal- 1/2 cup
Sambar powder- 2 tsp
Asafoetida- 1 pinch
Mustard seeds- 1 tsp
Dry red chilies- 3
Tamarind-a lemon size
Water- 2 cups
Salt to taste
Onion- 1
Green chilies- 2
Tomatoes-2
Salt- to taste
Curry leaves- 1 sprig
Oil- 1 tbsp
Directions:
Wash and chop the spinach roughly and set aside in a plate. Chop the onions and green chilies finely.
Pressure cook the dal with 2 cups of water, chopped onion, chopped tomatoes, green chilies and asafoetida up to 2 whistles. Meanwhile, in a bowl soak the tamarind in 1/4 cup warm water.
Extract the tamarind juice after ten minutes. Pass it through a sieve and set it aside.
Heat oil in a pan and add the mustard seeds, curry leaves and dry chilies. When the mustard splutters add the sambar powder and saute till the rawness of the spice powder dissipates.
Now add the chopped spinach leaves and salt and saute till the spinach wilts. Add the spinach with the tempering to the cooked dal and bring the dal to boil.
Add the tamarind extract and let the dal simmer for 5 minutes till the sambar thickens. Check the salt level and add more if required.
Switch off the flame after 5 minutes of simmering and serve the sambar with rice, idli or dosa.
Footnotes:
Alternatively you can saute the spinach with onion and chilies in a pan and add it to the cooked dal and do the tempering separately.