Cheese Stuffed Chilli Bhajis
We,husband and two daughters,need something to bite along with a cup of tea.And it should be something hot and spicy. This recipe is one such. The best thing about this dish is,you can enjoy three layers in one chilli- outer layer of besan batter,crispy,then the hot chilli and soft cheesy stuffing inside. It can be served as such or with ketchup,tamarind dip. This recipe is basically a South Indian street food, but it is prepared with out the stuffing-just chillies dipped in batter and deep fried. I have added my touch with the stuffing.g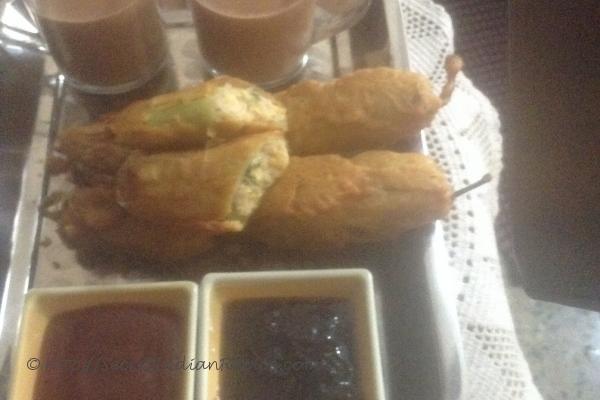 Ingredients:
Gram flour,besan-- 2 cups
Rice flour -- 2 tablespoons
Semolina--1 tablespoons
Cornflour --1 tablespoons
Chill powder--1/4 teaspoon
A pinch of turmeric
Salt to taste
A pinch of ajwain
Hot oil-1 tablespoon
Bhavnagari or Bhajji chillies--4
For stuffing: Boiled and grated potatoes-1/2 cup
Grated cheese-1/2 cup
Grated paneer-1/2 cup
Pepper powder-1/4 teaspoon
Garammasala powder-1/4 teaspoon
Coriander leaves,chopped-a handful
Salt to taste
Oil for deep frying
Directions:
Make a batter by mixing the first nine ingredients,with water,and make a batter of dropping consistency.
Mix the ingredients for the stuffing.
Wash and deseed the chillies and stuff with the cheese stuffing.
Dip the stuffed chillies in the batter and deep fry till crispy and brown.
Drain on tissue paper and serve hot .
Footnotes:
Crushed corn or peas can be added to the stuffing. Use the less spicy variety of chillies.