Chena Olarthiyathu (yam Stir Fried)
A humble stir fry that tastes awesome. Chenna olarthu is uncommon these days because of the pain staking process of getting the skin off and risking the itching that the skin causes at times. Nevertheless, this is a tuber with a distinct flavor. It can also be cooked with meats especially pork. We cultivate yams back at home so it has become a regular affair cooking these for lunch.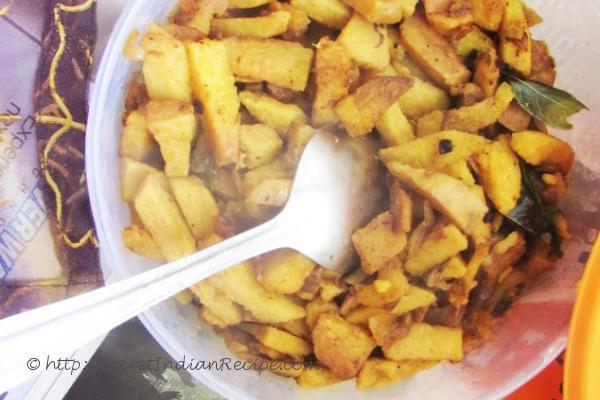 Ingredients:
Yam- 250 g
Shallots- 10 pods
Garlic- 8 pods
Curry leaves- 1 sprig
Crushed chilli flakes- 1 tsp
Turmeric powder- ½ tsp
Salt- to taste
Coconut oil- 2 tbsp
Directions:
Clean the chena by removing the scales. Apply oil while you do this because some yams cause itching and oil prevents this itching.
Mince the shallots and garlic using a mortar and pestle. Boil the chopped yam with 1/2 a cup of water and throw away the water once the yam is cooked.
Heat oil in a pan and saute the curry leaves along with the minced garlic and shallots.
Add turmeric powder and crushed chili flakes once the garlic browns.
Now add the cooked yam and stir them gently so they do not break.
Add salt and stir fry till the yam turns crisp.
Footnotes:
Do not overcook the yam while boiling else they will mash when you saute them later. Always poke with a fork to check how cooked your yams are
Some yams cook faster than the other which you would only know once you start cooking. If the yams you got do not cook fast you can pressure cook them.