Chicken Momo
A very famous recipe and personally my favourite too.I love to have it in winters.A tasty mixture of chicken along with onions stuffed in flour and steamed...yes low in calorie too and full of protein.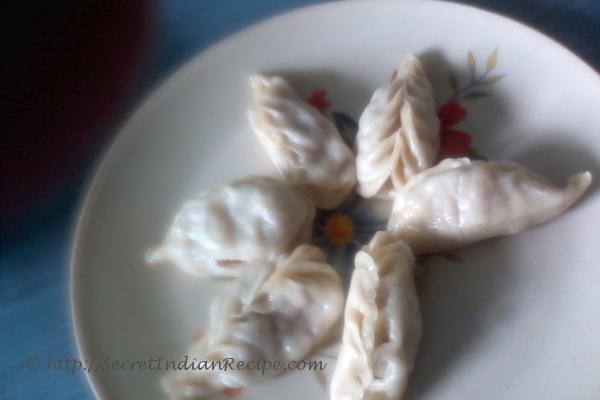 Ingredients:
2 cups All purpose Flour
1 1/2 cup of boiled minced Chicken
2 chopped Onions
1 tbsp Oil
1 tbsp chopped Garlic
1/2 tbsp chopped Ginger
2 finely chopped Spring Onions
4-5 chopped Green Chillies
Salt (according to taste)
Black Pepper (according to taste)
Directions:
Mix the flour with some Oil,Water and Salt.Knead into a Stiff Dough.
The Dough should not be sticky.
Mix the chicken with Garlic,Ginger,onions,Spring Onions and Green Chillies.Add some Salt and Black Pepper powder according to taste.
Make one ball out of the dough and with the help of a rolling pin,roll it into a small chapati around 3 inches in diameter.
Make sure the side of the chapati is thinner as compare to the middle portion as the middle portion will be holding the mixture in it.
Place 1 tbsp of chicken mixture in the middle and bring both the edges together in the center.It should look like a half moon.
Twist the edges by making folding first from right and then from left then again right .Repeat this process till it gets completely sealed from both the ends.
Place a steamer to boil. Do not forget to grease the tray of the streamer with some little white oil.
Place the Momos on the steamer.Cook it for about 15 to 20 Mins.