Dates Dry Fruits Basket
#DiwaliRecipeContest.
Healthy, tasty, easy to make recipe. Looks amazing. Must try Diwali sweet. It has been prepared using healthy ingredients, lots of dry fruits, no sugar is been added.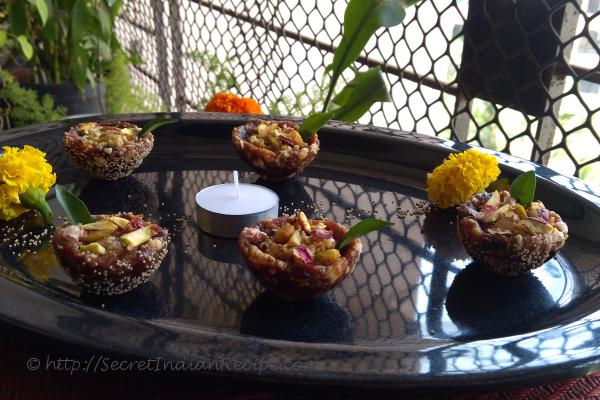 Ingredients:
Black Soft Dates – 2 cups – Deseeded and chopped finely.
Roasted Peanuts – 1/4th cup + 2tbsp (Basket + stuffing)
Pistachios – 1/4th cup + 1 tbsp. for stuffing
Roasted Almonds – 2 + 2 tbsp. (Basket + stuffing)
Roasted Cashew Nuts – 2+2 tbsp. (Basket + stuffing)
Roasted Magaz or watermelon seeds – 2+1 tbsp. (Basket + stuffing)
Honey – 2-3 tbsp.
Vanilla Essence – 1/4th tsp + 1drop (Basket + stuffing)
Ghee – ½ tbsp.
Roasted poppy seeds – 2tbsp (Optional) for rolling
For Garnishing - Slivered almonds, Pistachios and Edible flowers
Directions:
Heat Ghee in a non-stick pan. Add finely chopped deseeded soft dates. Mix well.
Add finely chopped or coarsely ground roasted Peanuts, cashew nuts, Almonds, Pistachios and Magaz. Cook for 2-3 minutes.
Add Vanilla essence. Mix well till it incorporates well with each other.
Switch off the flame. Allow mixture to cool completely.
Make small balls, make a disk and start shaping them into small baskets or tokaris.
Spread poppy seeds in a plate. Coat baskets from outer sides.
Repeat the process with remaining mixture. Keep in freeze for 10-15 minutes
Dry Fruits Stuffing - Coarsely ground remaining roasted dry fruits. Add 1 drop vanilla essence. Add honey slowly at a time. Mix well.
Assembling – Take prepared tokaris. Add Dry Fruits Honey stuffing. Fill ½ or 3/4th.
Garnish it with slivered almonds, pistachios and edible flowers.
Transfer it into refrigerator or Serve.