Enchor/raw Jackfruit Torkari
This is one of my Mother's recipes that is loved by one and all. Made well it is a substitute for meat for the vegetarians. With Mother's Day round the corner what better way to celebrate it than to make dishes taught by her :)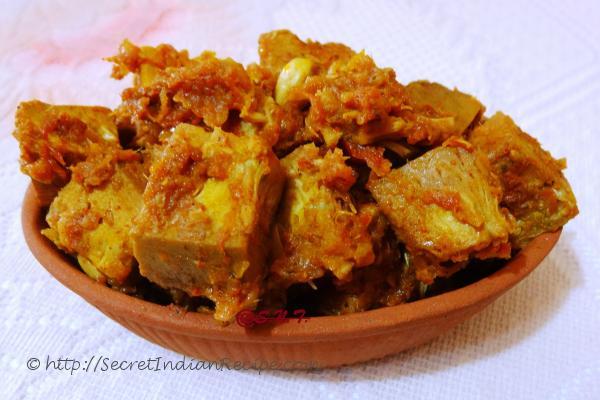 Ingredients:
500gms Raw Jackfruit
2 Big Tomato Pureed
1 Tbsp Ginger & Garlic Paste
I big Onion grated
1/2 Tsp Cumin Powder
1/2 Chilli Powder
1/2 Turmeric
Salt to Taste
1/2 Tsp Garam Masala
1Tbsp Ghee
2Tbsp Mustard Oil
Directions:
Cook cubed jackfruit in the pressure cooker with a pinch of salt and turmeric for 2 whistles. Drain the water and keep aside.
Heat mustard oil in a wok and fry onion, ginger, garlic paste till slightly brown.
Add pureed tomato, cumin powder, turmeric, salt, chilli powder and roast masala till oil separates.
Add the cubed jackfruit and mix well into the masala. Cover and cook till done.
You may add a little water to get the masala to coat the jackfruit. Before removing from fire add garam masala and ghee. Serve with rotis or rice.
Footnotes:
If you wish to make it rich add more mustard oil and lots of chilli powder.