Haara Kandha Aur Besan Bhaji(green Onion And Gram Flour Bhaji)
This recipe is so easy that you might wonder if it is accurate and worth trying. It is and Please do! It is so yummy, everyone I have made this for cannot believe how easy it is :) I make it just before serving and eat almost immediately after because I love it so much I cannot help myself!
The Besan helps bind the onion together and makes the entire thing tasty. Remember to dry roast the chickpea flour thoroughly, if you do this it will ensure the veg doesnt taste raw. But be very vigilant while you roast the flour, it has a tendency of sticking and going red very soon. We only want a light gold colour and the smell to change to a nice toasty one.
Do not be fooled by the few ingredients here, give it a try if you find lovely green onion in the market,I`m sure you will be happy with the dish. It is also great for a lunch box and easy to whip up in the morning too :)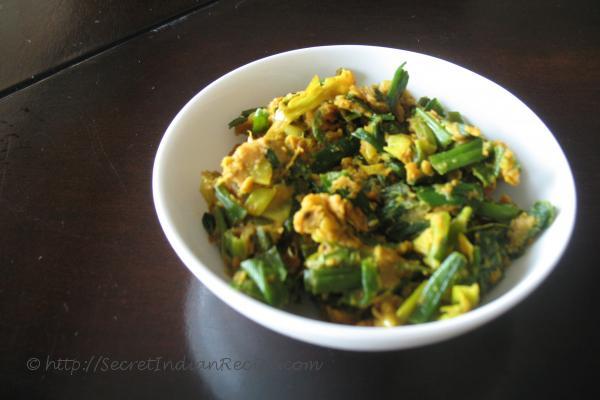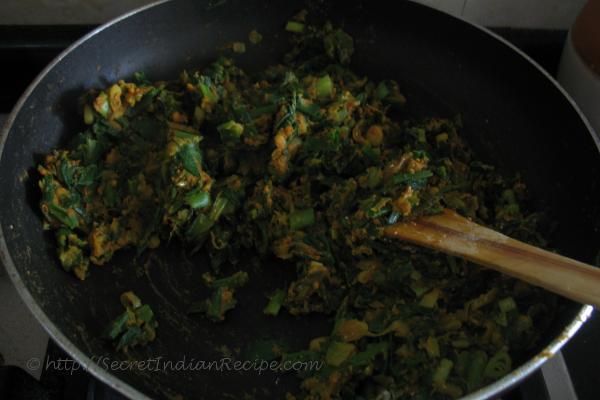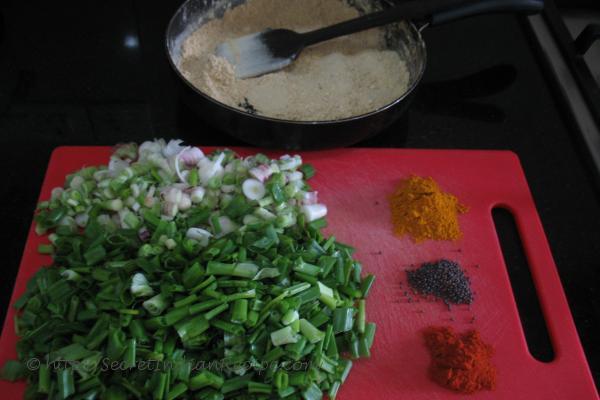 Ingredients:
1 Big Bunch Green onions (Spring Onions), the white part and green part chopped and kept seperate
8 tbsp Besan ( Gram flour) Dry Roasted
1 tbsp Mustard seeds
1 tsp Chilly Powder
1 tsp Turmeric powder
Salt to taste
1/2 tsp Sugar
2 tbsp Water
2 tbsp oil
Directions:
Heat Oil and sputter the mustard seeds.
Add the white of the onion and fry for 1 minute.
Then add the dry spices and stir thoroughly. The spices should be well mixed, but not burnt.
Add the water, salt and sugar.
Stir and taste for seasoning. Next add the greens.
Stir all the ingredients together till they are well incorporated.
Now add the toasted besan 2 tbsp at a time. Remember to mix thoroughly between each addition to ensure it gets mixed thoroughly and is not raw.
If it is too dry sprinkle with a little water. Continue to do this on a low flame till you use up all your besan.
Serve hot with rotis or rice and dal. Enjoy!