Hara Bhara Kabab (green Vegetable Kabab)
This Kabab is made of potatoes and lot of green vegetables and thus it is called ' Hara Bhara kabab'. Kabab is eternally a non – vegetarian recipe and was introduced in Indian Cuisine with the advent of Mughals. The moment anyone talks about ' Kabab' you think of mutton or chicken kakabs in the first place. Interestingly, I learnt this recipe of vegetarian kabab from one of my Muslim Friends' mother. My friend is very health conscious and thus her mother tries to invent recipes, which is close to their style of cooking with vegetarian stuffs. So, if you are also looking for a vegetarian alternative for Kababs, try out this one.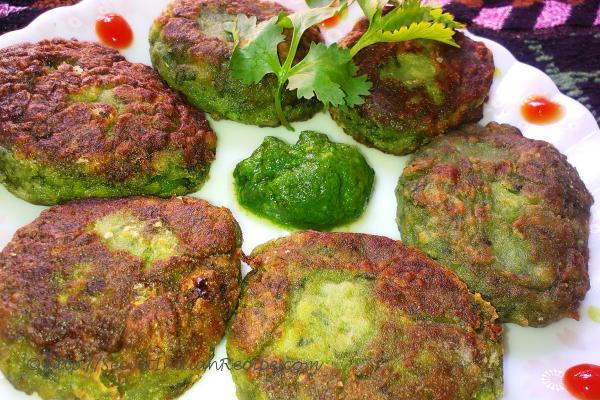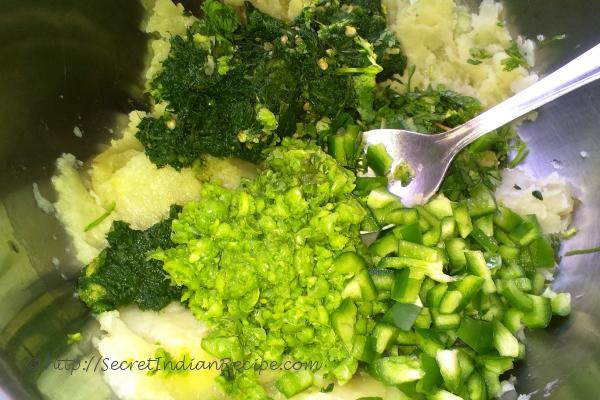 Ingredients:
Potatoes – 4 medium sized (Boiled)
Palak (Spinach leaves) – 1 bunch
Green Pea – ¼ cup
Capsicum -1 small (Finely chopped)
Green coriander leaves – 2-3 tablespoon (Chopped)
Ginger – Garlic – 2 tablespoon (Crushed)
Green chillies – 2-3 (Crushed)
Salt – as per your taste
Maida (Refined flour) – 4 tablespoon
Oil – for frying.
Directions:
Wash and cut the spinach leaves and put it in a wide pan. Switch on the gas and keep the pan on the gas and put a lid on. Cook the spinach leaves for about 5-6 mintues till it becomes soft and releases its water. Let it cool.
Once cooled squeeze the water from the spinach leaves and then put it in a grinder. Add the green peas and crush them slightly. Keep aside.
Afterwards, peel the boiled potatoes and mash them in a big bowl. Add the crushed green peas and spinach along with chopped capsicum, green coriander leaves, crushed ginger, garlic and green chilies and salt and mix by hand.
Now make small kababs out of the mixture and dust them over the maida.
Heat oil in a frying pan and slowly place the kababs in batches to cook. Flip it to the other side as it turns brown on one side.
Transfer on a plate, when done and serve with Coriander Chutney.