Irumban Puli Achar (bilimbi Pickle)
This fruit is popularly known as irumban puli, illimbi, bilimbi and Chilimbi throughout Kerala. It resembles a mini cucumber but is very tangy and rich in vitamin c. The specialty of this fruit is that it grows in clusters close to the tree trunk as well as branches. When it is very small and not very tangy we make stir fries with this fruit. Though not used quite commercially, in homes this fruit is pickled and also used for jams and preserves. We also add it to fish curry for the tangy flavour it imparts. This fruit is also native to Indonesia and many other South Asian countries.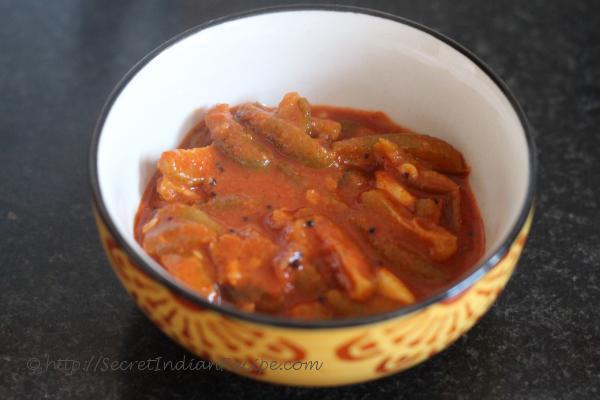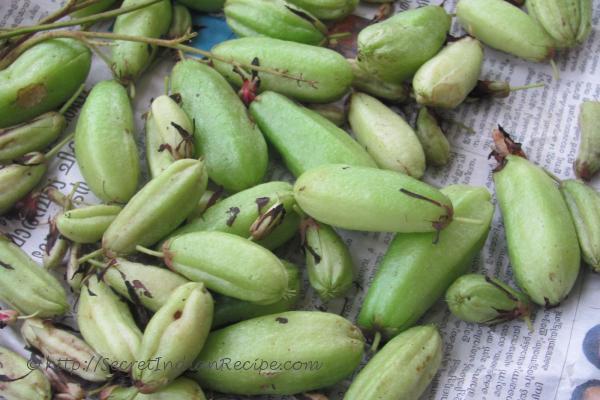 Ingredients:
Irumpan pulli- 500 g
Chili powder- 5tbsp
Kashmiri Chili Powder- 5 tbsp
Turmeric powder- 4 tsp
Asafoetida- 3 tsp
Fenugreek powder- 1 tsp
Salt- 4 tsp
Water- 1 cup
Mustard seeds- 2 tsp
Garlic- 20 cloves sliced
Ginger- 2 inch long piece
Gingely oil- 200ml
Directions:
Wash the irumban puli. Cut off the stem on top of the fruit and slice the irumban pulli into halves or quarters.
Slice the ginger and garlic into long thin strips. In a pan heat the sesame oil till it starts to smoke.
Add the mustard seeds first and let it pop. After the mustard seeds pop completely add the sliced ginger and garlic and fry till they are golden.
Now add the spice powders. Reduce the flame when you add the spices and saute till they emanate a roasted smell.
Now add the sliced bilimbis and saute so that they get coated with the spices. Add salt and water and bring the pickle to final boil.
Switch off the flame after this and transfer the pickle into sterile jars. Store on counter top and it lasts a year if you use a clean spoon to take the pickle each time.
Footnotes:
Please see that the oil tops the pickles. If not heat some extra oil cool it down and pour it over the pickle in jars.