Jhal Mirch Aachar (spicy Chilli Pickle)
Aachar (pickle) is an indigenous part of Indian cuisine. From Kashmir to Tamil Nadu and from Assam to Gujarat people make variety of aachars and is served along with the main course. Aachar is usually made with spices that not only stimulate our taste buds but also help in better digestion of food..... . Aachar is served as complimentary dish with many parathas and papad. Here is one of my aachar recipes.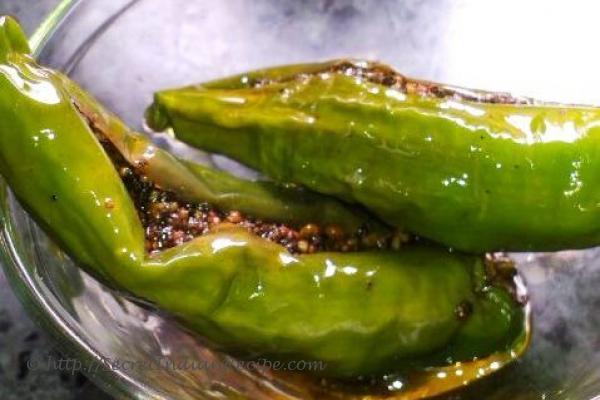 Ingredients:
Green aachari mirch (green thick chillies) 250 grams.
Sarson tel (mustard oil) 10 ml
Sauf (fennel seeds) 5 tablespoon
Ajwain (carom seeds ) 3 tablespoon
kala zeera or mangreela (nigella seeds ) 3 tablespoon
Rai (dry mustard seeds) - 5 tablespoon
Red chillies - 2-3 pieces
Khatai - 5 tablespoon
Salt - 2 tablespoon
Hing (asafoetida) - 1/2 tablespoon
Directions:
First pluck the heads and wash the chilies thoroughly. Use a muslin cloth and wipe the chilies.
Make a cut on one side of each chili to fill the filling.
Heat a tawa and put all the masala. Roast the masala on light heat for about 2 mintues and then grind them into powder. Mix the masala along with salt and khatai and fill the masala in each chili.
Put all the chilies in a glass jar and pour mustard oil. Shake well and keep the aachar in sunlight for at least 5 days.
Footnotes:
You can replace khatai with white vinegar 5 tablespoon) or dry mango powder (4 tablespoon)to bring the sour effect.